6 Lessons From My Granddaughter
Posted by Paula Henry on Sunday, November 8, 2009 at 9:43 PM
By Paula Henry / November 8, 2009
4 Comments
There are lessons to be learned in every breathing moment, should we take time to stop and look around. Sometimes the profound smacks us upside the head and says, "Pay attention"; other times the soft whisper of the wind and the sunset teaches us the beauty of a quiet evening. Life is an ever evolving lesson.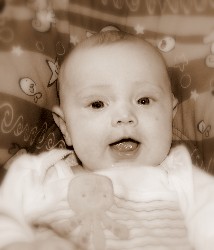 She made her way into this world in April, 2008, with a cry to let us know she had arrived. One look and I could see her mothers face looking back at me. It's quite remarkable when you see the face of your child in the eyes of your grandbaby.
There's something so sweet and innocent about a newborn. It was love at first site. She grew, as babies do, so fast it seems – where did the time go. I should have cuddled her more because now she has no time. She is exploring her own world, as small as it is.
Lesson 1 – take time for the small things, time passes too quickly She begins exploring the boundaries of her world by rolling. I have never seen a baby roll with such precision. Around tables, through doorways and down the hall to get where she wanted to go. We assumed she had no interest in crawling since she could get wherever she wanted by rolling.
Lesson 2 – obstacles are for going around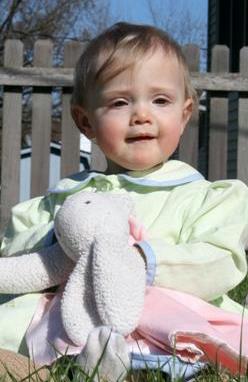 She starts to scoot to get around. Apparently, she prefers scooting to crawling, but eventually she does crawl and always with her right hand in a fist. Did I say she's a lefty like her daddy? From the time she showed a preference, she reached for everything with her left hand. Her binky, her ba-ba, her bunny and food, when she started to eat………everything she needed.
Lesson 3 – You don't need a lot of things to make you happy. She's over a year old now, but she doesn't talk much or walk. She still prefers to crawl and scoot. Her mommy taught her and her brother sign language when they were babies, so she knows how to get what she wants. She says Mama, Dada, Ba-ba, something similar to brother and rar rar for dog. Go figure! But, we know what she wants and that's all that matters to her.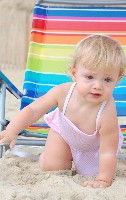 Lesson 4 – There's more than one way to communicate. She's a year and a half old now and still not walking on her own. She stands and walks around tables and falls if she takes a few steps on her own. She can't seem to coordinate getting her right foot in step with her left. She falls and crawls and scoots to the table and tries again. The doctor is a bit concern, she appears to have more strength in her left side than her right. Her muscles on the right side seem a bit tense. So off to the specialist for a visit! It's a month away and by the time she arrives at her appointment, she has learned to walk on her tippy toes. The kid has perseverance!
Lesson 5 – Never, ever give up! The doctor watches her walk and examines her – but the people of her world, the ones who love and cherish her were not prepared for the diagnosis – Cerebral Palsy. Seems she's one of the lucky one's – a mild case. Still, she will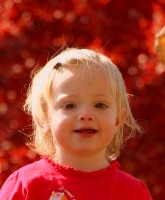 have lots of therapy; physical, speech and occupational. She was fit for a special boot to assist her in walking. One step at a time!Last week, her mommy said, she made the sign for more and said mo…. Another small step! Funny thing, she doesn't know anything has changed. She still goes full speed ahead and keeps trying new things, even if she falls. In her mind, she has no limitations. She has no small voice telling her she can't. I hope she never does. I pray she never does!
Lesson 6 – We are only limited by our belief. This is not a sad story – just a life story. Life has a way of teaching us the things we need to know - to live, to love, to enjoy each day. The lessons she has taught me apply to every aspect of life. I'm certain my grand-daughter will teach me so much more in the years ahead. Hopefully, I'll be able to teach her as much.