8 Cost Effective Ways to Boost Your Home's Curb Appeal
Posted by Paula Henry on Sunday, April 20, 2014 at 10:00 AM
By Paula Henry / April 20, 2014
Comment
Spring has sprung, which means that houses are coming onto the market each and every day. For those looking for a new home, this is great news for you! But if you're wanting to sell your home, you're gaining competition. One way to get your house to stand out is to have great curb appeal.
What is curb appeal and why is it so important?
Curb appeal is the attractiveness of the exterior of a residential or commercial property. It's the first impression potential buyers will get, so naturally you want to put your best foot forward. It sets the tone for your entire home.
While the inside of a home is incredibly important, but we'd argue that the exterior is equally so since buyer's associate the condition of the exterior and landscape with the condition of the interior. In a buyer's market, curb appeal can mean the difference between a home that sells quickly for the asking price and a home that sells after months of sitting on the market.
In fact, studies show that buyers will not get out their car if they do not find your home's curb appeal visually attractive--that is, if they visit your property at all. With more and more people shopping for homes online, potential buyers could be turned off from viewing your property, just based on the listing photo alone! Addressing your home's curb appeal is a critical component in marketing and selling your home.
We know that getting ready to sell a home can be expensive, so don't worry. Boosting your home's curb appeal doesn't have to be costly. In fact, there are lots of cost-effective ways to boost your home's curb appeal - some you can do in a day!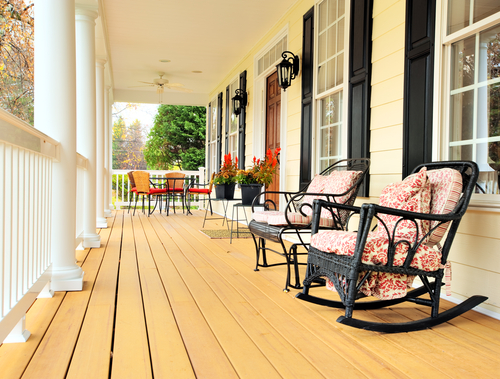 Decorate your front door
Your home's front entry is the focal point of its curb appeal. Make a statement by giving your front door a blast of color with paint or by installing a custom wood door. Clean off any dirty spots around the knob, and use metal polish on the door fixtures. Your entry should also reflect the home's interior, so choose a swag or a wreath that reflects your personal style.
Update shutters and trim
Shutters and trim add a welcoming layer of beauty to your home's exterior. Shutters also control light and ventilation, and provide additional security. Exterior shutters can be made of wood, aluminum, vinyl, composite, or fiberglass. New composite materials, such as PVC resins or polyurethane, make trim details durable and low maintenance.
Be symmetrical
Symmetry is not only pleasing to the eye, it's also the simplest to arrange. Symmetrical compositions of light fixtures and front-door accents create welcoming entryways. You might consider adding sconces or potted plants or chairs on either side of your front door.
Makeover your mailbox
Mailboxes should complement the home and express the homeowner's personality. When choosing a hanging drop box, pick a box that mirrors your home's trimmings. Dress up mail boxes by painting the wooden post to match the house's exterior color, or by surrounding it by a beautiful flowering garden.
Replace old hardware
House numbers, the entry door lockset, a wall-mounted mailbox, and an overhead light fixture are all elements that can add style and interest to your home's exterior. If they're out of date or dingy, your home may not be conveying the aesthetic you think it is. These elements add the most appeal when they function collectively, rather than as mix-and-match pieces. Oiled-bronze finishes suit traditional homes, while brushed nickel suits more contemporary ones.
Add color with flowers
Container gardens add a welcoming feel and colorful appeal to any home exterior -- quickly and affordably. You can buy ready-made containers from garden centers or create your own with your favorite plants. For most landscapes, a staggered, arrangement works best to create a dynamic setting.
Install window boxes
Window boxes offer a fast, easy way to bring color and charm to your home exterior. Choose boxes made from copper or iron for a traditional look, or painted wood for a cottage feel. Mix and match flowers and plants to suit your lighting conditions and color scheme.
Include some art
Give your yard a little spunk by adding weather-resistant artwork. Choose pieces that complement your home's natural palette and exterior elements. Birdbaths, metal cutouts, sculptures, and wind chimes are good choices for outdoor art. Water sculptures not only function as yard art, but the burbling sounds soothe and make hot days feel cooler. Place fountains on level ground in optimum hearing and sight vantage points. Avoid spots in leaf-dropping range.