A Christmas Gift to Honor my Friend - The Caulk Memorial Project
Posted by Paula Henry on Saturday, December 24, 2011 at 8:01 AM
By Paula Henry / December 24, 2011
Comment
I wish we could put up some of the Christmas spirit in jars and open a jar of it every month....Harlan Miller
Christmas is a special time of year. There's a spirit of love, kindness and giving in the hearts of men. What would it be like to capture that special spirit throughout the year? While it may seem an impossibility, I believe it is truly the sentiment behind the reason we give gifts. There are many gifts throughout my home which represent a special memory from Christmas' gone by, given from the heart of one who loves me. I treasure these gifts, but more importantly, the memories.
This year, I want to help pass on a forever gift to someone dear to me, in memory of those she loves. I am honored to participate in the Caulk Memorial Project - a gift for the Caulk Family.
When I first read about Missy's son, Jamie, being critically injured in an automobile accident, my heart went into mommy mode. I have a son the same age as her's and couldn't imagine the heartache she and her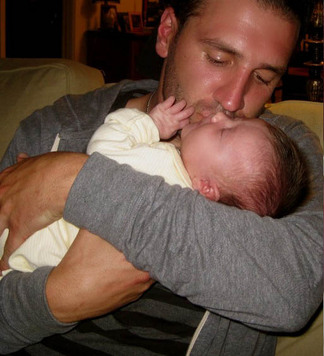 family were facing. For eight days, family and friends prayed and gathered to support Missy and her family. Sadly, Jamie passed away on October 22, 2011 and I cried for my friend.
A mother without her child is a lonely place ~
A few short weeks later, Missy's 11 week old grand daughter, Lillian, died suddenly. I have been by the side of my daughter as she gave birth to a child we knew would not make it and held her as she laid her child to rest. I personally couldn't imagine the incredible grief this family was enduring, especially Missy. I remember thinking, I'm not sure how I could handle the loss of a child and at the same time, comfort another of my children in the loss of their child.
Everyone wanted to help them and yet at times like this, you watch helplessly, wishing there was something....anything, you could do.
From this desire sprang the idea to give this family a forever gift, in memory of Jamie and Lillian.
Carol Grubb, a friend of Missy's is spearheading the Caulk Family Memorial Project. The project will place a memorial bench in a park in Ann Arbor. A special gift for a special family. A place to honor their loved ones. A place where the Spirit of Christmas will last throughout the year. A gift that will never be forgotten.
The cost of this memorial bench is $3000.00. Alone, this may seem insurmountable, but in numbers, we can make this bench a reality for the Caulk Family.
How to Make a Donation (no gift is too small):
Make checks payable to "The Jamie & Lillian Caulk Memorial Fund"
Mail those checks to:
Carol Grubb
3647 W. Greenook Dr.
Ann Arbor, MI 48301
Or send a Paypal (as a gift so all funds go to them) to cyndeehaydon@gmail.com and put "The Jamie & Lillian Caulk Memorial Fund" in the memo
Along with your donation, Carol has requested each person's name or names & email addresses because she will be giving the Caulk's a card from everyone and she also wants to keep you informed of the details of the upcoming picnic / dedication that is being planned for early to mid-May when the bench is ready.
Wishing you and your family a beautiful, blessed Christmas.