A Guide to Farmer's Markets in Indianapolis for 2017
Posted by Paula Henry on Monday, April 24, 2017 at 5:30 PM
By Paula Henry / April 24, 2017
Comment
With spring in full swing and the summer just around the corner, it's time for the farmer's markets to open again. Many local farmers' markets are found all throughout the Indianapolis area. Whether you live in Fishers, Broad Ripple, Greenwood or even in Downtown Indy, you can enjoy a farmers market near you.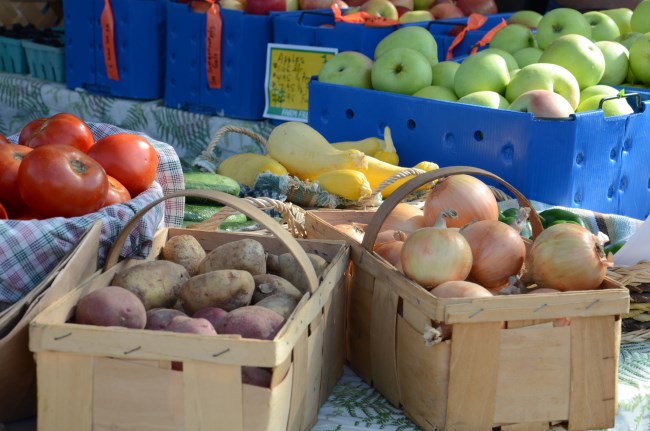 Indianapolis Farmers Market - 222 East Market Street, Indianapolis
Known as "The Original Farmers' Market" in Indianapolis, this market includes plenty of farmers with all types of produce, dairy, meats and so much more. It's found at the Indianapolis City Park and held from 10am to 1:30pm every Wednesday.
38th and Meridian Farmers Market - 3803 North Meridian Street, Indianapolis
Affordable and fresh options with plenty of food items, the 38th and Meridian Farmers Market even accepts SNAP and WIC. Many of the items from vendors are grown in Indiana to help provide everybody with whole and healthy foods. The market is held on the 1st and 3rd Thursday of every month from June to September. It opens at 4pm and runs until 6:30pm.
Market at Hague - 7802 Hague Road, Indianapolis
Opening up for the season on May 6th, The Market at Hague provides more than 100 vendors with all types of products. Farms, bakeries, fish and meat vendors, bakeries, cheese makers and even wineries are found at this market. The Market at Hague is held every Saturday from 8am to 12pm at the Lawrence North High School.
Broad Ripple Farmers Market - 1115 Broad Ripple Avenue, Indianapolis
Supporting locally grown and locally produced foods, the Broad Ripple Farmers Market provides all types of vendors. It's the best in the area with many new environmentally friendly programs to help with recycling, reuse of items and reduction of waste. The market is held on Saturdays from May 6th to November 25th. It opens up at 8am and runs until 12pm, May through September and from 9am to 12pm in October and November. The market is held at the Broad Ripple High School.
Carmel Farmers Market - 5 Center Green, Carmel
All types of great products are found at the Carmel Farmers Market including plants, flowers, eggs, poultry, fish, meat, produce, cheese, baked goods, prepared foods and so much more. You can even come out for lunch with some ready to eat foods found here. The Carmel Farmers Market is held at the Carme Civic Green on Saturdays from 8am to 11:30am, May 6th to September 30th.
Fishers Farmers Market - 6 Municipal Drive, Fishers
Opening on May 6th, the Fishers Farmers' Market provides all types of vendors with more than 55 total on hand. It features live music, family activities, cooking demonstrations and so much more. There will even be special days throughout the year, such as Pet Day, the Strawberry Festival and the Fall Harvest Festival. The market is held every Saturday from 8am to 12pm at the Nickel Plate Amphitheater.
Other area farmers' markets to enjoy in Indianapolis include: