Bleeding Blue: How to Throw the Best Colts Party
Posted by Paula Henry on Sunday, September 14, 2014 at 10:30 AM
By Paula Henry / September 14, 2014
Comment
It's Fall, which means it's football season. If you're in or around Indianapolis, chances are that you are a Colts fan just like we are here at Home to Indy. One of the best ways to celebrate your new home is to have people over. So why not host a Colts party?
If you're not able to be at the game, the second best thing is to recreate the energy surrounded by your closest family and friends. But in case you're not a natural party planner, here are a few tips to creating an awesome Colts party.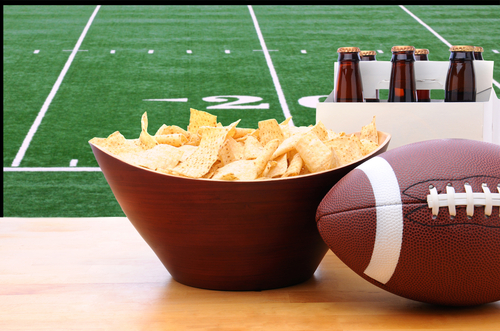 Invitations
Send invitations (digital or snail mail) to your neighbors, family, and friends. Create football-themed invites that look like actual tickets. (You can order some personalized ones online here.) Encourage fans to wear their best Colts gear - or go over the top with blue and white (then have a contest for the best dressed). Make sure you give your friends plenty of time to plan ahead so that they can make it to the party.
Decorations
Decorate your home with team colors. If you've moved into a new home, you might put blue and white balloons out on the mailbox so that guests know where the party's at. Any party store should have ample paraphernalia. Consider the following to add to the football vibe:
Mylar football balloons
Pompoms
Noisemakers
Football napkins, plates, and tablecloth
Photo Booth
Set up a photo station where guests can take goofy pictures of themselves. Have Colts jerseys, helmets, footballs, pompoms, hats, cheerleader uniforms, referee shirts, goofy glasses, wigs available. The crazier, the better!
Food
Every good party needs food. But why not create some football-themed edibles? Snack foods tend to go over best at parties, so you might throw some chips in a football-shaped bowl. If you're extra domestic, make some chocolate covered strawberries and make them look like footballs by piping the white crossbars on them. Carve the shape of a football helmet out of a watermelon then have it on a tray with fruit spewing out. (Pinterest has tons of ideas!)
On the other hand, you can also do something easy like throwing some hotdogs or hamburgers on the grill - or putting some chili in the crock pot.
If you've just moved into a new home, don't feel like you have to provide all the food yourself. A pot luck is an easy way to eliminate some of the cooking stress.
Games
Create some healthy competition between your fans. Have a sign in sheet where guests can fill out their name, who they predict will win, and the final score. Have a fun prize for the winner.
Why not plan some games for halftime as well? Transition the party outside for some cornhole, which is a great way to pass the time! (It's even better when it's a Colts cornhole set!)
Invite Blue
What better way to entertain your guests than to have our beloved mascot Blue show up? (Obviously, this would only be available during away games.) He can be hired to make an appearance, during which he could sign autographs, throw a football, and make everyone laugh. Keep in mind, they ask for 4 weeks' notice for your request. With Blue, it's sure to be a game that no one would forget!
For the Homegating Guide, visit the NFL Pro Shop and check out your local Bed Bath and Beyond for more Colts party items. GO COLTS!
What did we leave out? Write a comment in the section below - we'd love to hear your great ideas!