Carmel Indiana Real Estate Market Update – November 2009
Posted by Paula Henry on Saturday, December 12, 2009 at 9:16 PM
By Paula Henry / December 12, 2009
Comment
Carmel Indiana real estate market statistics indicate the last half of 2009 may be a turning point for home sales. While home prices aren't back to the average sales price of the first quarter of 2008, the average sales price is remaining steady and the number of home sales in Carmel is up.
In the home sales report for the first three quarters of 2008 vs 2009, you can clearly see the average price decline to it's lowest point in the first quarter of 2009.
By the end of the second quarter of 2009, the average home value was up to $304,270 and climbing. In November there were 103 condos and homes sold in Carmel, compared with 65 sold in November, 2008. Average Sales Price: $328,980
Single Family Home Sales:
Homes Sold:89
Average price: $356,914
Average Days on Market: 92
Highest Price Home Sold: $1,964,196.
Lowest Price Home Sold: $40,000
Condos Sales in Carmel:
Condos Sold: 14

Average Price: $151,227

Average Days on Market: 93
Is this a trend we will see continue for Carmel? We'll look at the fourth quarter next month, but it looks promising. Graphs are a look at the past two years for single family homes and condos combined.
Carmel Indiana Home Sales Price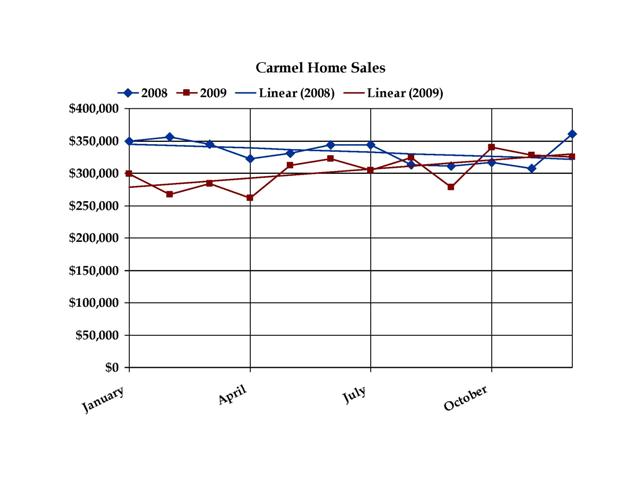 Carmel Indiana Homes Sold