Common Vision Problems in Infants, Toddlers, and Children (Interview With a Pediatric Optometrist in Carmel)
Posted by Paula Henry on Sunday, December 8, 2013 at 9:24 AM
By Paula Henry / December 8, 2013
Comment
As part of our "Moving to Indianapolis" series, I wanted to reach out to a prominent children's optometrist in the Indianapolis area. Dr. Katherine Schuetz in Carmel, Indiana came highly recommended and she was gracious enough to answer some of my questions about caring for children's vision. Of course, if you are already living in Carmel or around Indy and looking for a good optometrist for your child this post is for you too!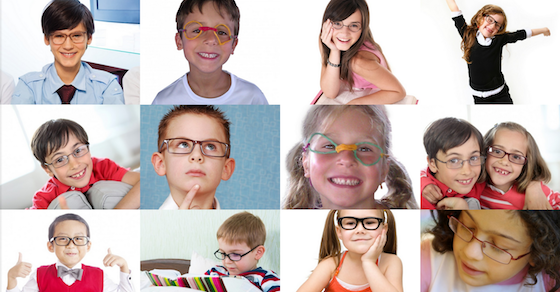 (image credit: littleyes.com)
Active in the American Optometric Association, the Indiana Optometric Association, and the Central Society of the IOA, Dr. Schuetz stays aware of the latest issues in optometry and how to provide the best patient care.
These days Dr. Schuetz spends the majority of her day at Little Eyes, a brand new pediatric eye care practice located in Carmel, Indiana and created by RevolutionEyes.
Paula Henry: What is the earliest age that parents should start watching out for vision problems in their kids?
Dr. Schuetz: The earliest age parents should start watching for vision problems is Day One!
The eyes undergo a significant amount of development in the first 6 months of life, which is why we typically don't recommend an eye exam for your child until 6 months. However, if pupils are different sizes or the pupils don't look equally red in photos, that is a reason to bring your baby in right away, regardless of age.

Most babies and toddlers are farsighted, which is a normal part of eye development. When we see 3 year olds with no prescription, we know they are most likely going to be nearsighted as they grow! So a little farsightedness is a great thing in the early years. Young children can be very farsighted as well, which will often have no symptoms except an occasional eye turn, which is sure to alert the parents. High amounts of farsightedness cause a great deal of eyestrain, so most kids learn to only focus as much as they have to get by, but they won't be seeing clearly since it takes too much effort for their eyes. Those kids will be able to pick up a plane in the sky by really turning their focusing muscles into high-gear for a moment, but that is not how they typically see.
Paula Henry: When do you recommend a child's first eye exam?

Dr. Schuetz: I recommend a child's first exam around age 3 so we can rule out significant farsightedness and give you an idea if we expect your child to need glasses for nearsightedness at an early age.

Many parents wonder how we can check for prescription in a baby or unruly toddler. The answer is: quickly! We use an instrument called a retinoscope that allows me to measure the prescription without the child having to respond in any way. Between videos and toys, I can keep the child's attention on what I need so I can check the health of both the inside and outside of the eyes, eye muscle capabilities, and glasses prescription in just a few minutes.
Paula Henry: What are some warning signs that your child might need glasses?
Dr. Schuetz: Warning signs to look for would be squinting, frequent headaches, avoidance of near work like reading, a head turn or tilt, or sitting overly close to the TV.

Paula Henry: Are there any ways that parents can help promote good eyesight and/or healthy eyes in their kids?

Dr. Schuetz: Help promote healthy eyes by encouraging good light for reading and doing homework, and by wearing sunglasses. Most parents are fantastic about sunscreen for their kids, so don't forget the eyes! A hat with a good brim or sunglasses will keep harmful UV out. But the most important thing parents can do to promote good vision is to get their children's eyes checked every year. Kids often don't know what they're missing, so they don't know to complain. Kids grow and develop so fast, and their visual systems change quickly as well. Just because your child passed a vision screening in kindergarten doesn't mean they'll never need glasses! To make sure they're seeing clearly, be sure to have their eyes checked yearly.
---
About Katherine Schuetz:

Dr. Katherine Schuetz attended Indiana University School of Optometry, where she graduated

Summa Cum Laude. She received her B.S. from Indiana University as well, after completing the majority of her undergraduate education at Millikin University in Decatur, IL.
Dr. Schuetz has been practicing in central Indiana for the past 8 years. She was one of the first several optometrists in central Indiana to be part of the InfantSee program, a free vision and ocular health evaluation for infants 6-12 months. Dr. Schuetz takes great pride in her role as a pediatric optometrist, and enjoys making a difference for kids through their vision.
Dr. Schuetz spends the majority of her day at Little Eyes, a brand new pediatric eye care practice located in Carmel, Indiana and created by RevolutionEyes.