Comprehensive checklist for moving to Indianapolis (or anywhere)
Posted by Paula Henry on Sunday, October 27, 2013 at 9:56 AM
By Paula Henry / October 27, 2013
1 Comment
Moving is a monumental task for any family. Having a week-by-week game plan will bring you one step closer to maintaining sanity during the big move.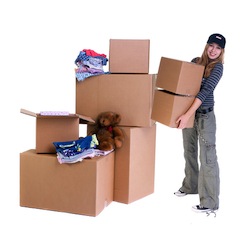 When it's time to move, whether you are thinking of moving to Indianapolis for a new job, moving to a different community across town, or downsizing to a condo, print these handy tips to keep you organized and on schedule for moving day!
4 Weeks Ahead
Decide on a mover. Indianapolis has several great moving companies, including Two Men and a Truck and Master Movers.
Start sorting through your things to decide what to keep and what to throw out. If you're going to have your mover pack your belongings, arrange to have it done 1 or 2 days prior to your move. If you decide to pack yourself, start this week. Make packing easy on yourself. Pack gradually. Pack items not being used; as in closets, attics, lofts, rafters, etc. well ahead of time. If you pack a little each day for 30 days, meeting your packing deadline will not be as exhausting or time consuming prior to your move.
Fill out Post Office change-of-address cards.
Start notifying businesses, relatives and friends of your move.
Don't forget to notify credit card companies, publications subscribed to and the Department of Motor Vehicles.
3 Weeks Ahead
Hold a garage sale.
Arrange to have gas, electricity, and cable TV disconnected in your present home and connected in your new home the day after move day.
If drapes, clothes, rugs, etc. are to be stored for over 90 days, send them out for cleaning prior to being stored.
Arrange to have phone service disconnected no earlier than half way through the move day in case your movers need to reach you that morning. Make sure they have your mobile phone number as a back-up.
Make plans for childcare on move day. Last-minute childcare options in Indianapolis include Sitters to the Rescue. Here's a great list of Indianapolis childcare options on Indy's Child.
2 Weeks Ahead
Make sure the house will be ready at the other end. Decide where you want the movers to place the furniture.
Begin to use food up instead of moving it.
If necessary, reserve apartment elevator for pick-up/delivery.
1 Week Ahead
Arrange for newspaper and other delivery services to be halted.
Close or transfer bank accounts if necessary.
Dispose of flammable items. Drain fuel from power tools. Return any borrowed items to neighbors.
Pick up items at the cleaners.
3 Days Ahead
Remove anything from drawers that might spill, break or stain.
Have an ice chest or box ready to hold food from the refrigerator on move day. Movers will advise you when to start packing it.
Make sure you keep all medications needed in a safe accessible spot during packing.
Set aside valuable items you are taking with you.
Relax - You're doing fine!
2 Days Ahead
Movers can't accept personal checks, so make sure to have cash, or buy your cashier's check, traveler's checks or money order and have extra cash on hand.
Make up a box of things you'll need immediately at the new house. Include light bulbs, garbage bags, hammer & nails, soap, paper towels, cups, bathroom tissue, canned soup, crackers, and any other snacks your family might like. Write Load Last Unload First on the box.
If you're moving plants, don't water them again until after they're moved.
1 Day Ahead
Pack all of your personal belongings.
Arrange to have dogs tied up and out of the way on move day. If you have cats or other small animals, a crate might be a good idea.
Make careful inspection of the entire house. Check everywhere for forgotten odds and ends.
Moving Day
Arrange to be at home for the entire move. The movers will need your instructions.
Before the loaded truck leaves, make sure nothing has been left behind
If your delivery is another day, give the driver a phone number where you can be reached in the meantime.
Meet the movers at the new house to supervise unloading; they will place the furniture exactly as you want it.
Make sure you receive a copy of the work order from the driver.
Wishing you lots of luck on your big moving day!