DIY vs Hiring a Professional: How to Know When to Call in Reinforcements
Posted by Paula Henry on Sunday, September 7, 2014 at 10:30 AM
By Paula Henry / September 7, 2014
Comment
You've just purchased a new home, and you already have a To Do list a mile long of improvements you want to make to it: add crown molding, paint the bathroom, add on a deck, maybe knock out a wall or two.
In a world where there are more DIY blogs, magazines, and suggestions than one can possibly read, it can be tempting to potentially tackle some big(ger) projects that might be better suited for a professional. After all, if the Do It Yourself Network shows it, surely you can do it too, right? Well, maybe.
So, how are you to know when a project is something that you can tackle on your own versus when it's time to hire it out? If you've been asking this question, you've come to the right spot. Here are several areas that you need to consider: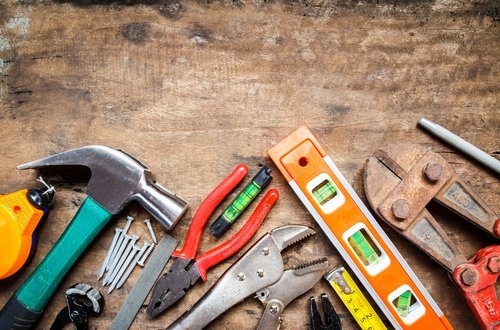 The time
One of the first things we recommend you considering is the size of a project. Something small - like adding handles to your kitchen cabinets - can be done in a fairly short amount of time.
On the other hand, if you're considering adding on a screened in porch to your home, that's a whole other story. Could you feasibly do the woodwork, run the electrical, and pour the cement required for it? Maybe. But the bigger question is: do you have enough time to do it? If you're wanting it done before the end of Fall (so that you can enjoy it), you best be bringing in the pros, who likely have slots available in their schedules. However, if you don't mind working on it here and there for several months - or years - then maybe it's something you can tackle on your own (with some DIY research).
The cost
Another area we recommend looking at is the cost associated with any project. If doing it yourself saves you $10,000 in labor, then that's definitely a motivation to roll up your sleeves. However, if a project (like painting a room) will only cost you a few hundred dollars to hire out, it might be worth the dough just so you don't have to bother with it. In the end, does the cost outweigh the time/effort? Only you can make that decision.
Skill level
Take a good assessment of your skills. If you shy away from even hammering in a nail, then a big project like crown molding probably isn't going to be up your alley. Ask yourself: Do you enjoy getting dirty and doing physical labor? If the answer is no, then it might be time to turn to Angie's List to find yourself a good professional. The last thing you want to do is create a bigger mess that may end up costing you more money. According to local contractor Jeremy, "A sizable percentage of our business each year involves salvaging do-it-yourself projects that have gone wrong."
The risk
Some home improvement projects require tapping into electrical or gas lines. In these cases, the cost of failure could be serious injury or death. Other projects - such as plumbing - may not be complicated, but they can cause big, water-clogged headaches if something goes wrong. You'll also want to consider local building codes and regulations that come into play. Failure to comply could result in fines and problems should you try to sell your home later on. The inherent difficulties of some projects make them good candidates for a contractor's skilled hand, even if you think you might be able to do it yourself.
We're all for homeowners getting their hands dirty and altering their home to make it more "them." But make sure you take into consideration all of these factors before you decide to do it yourself over calling in reinforcements.