Eagle Creek Real Estate Market Report - November 2008
Posted by Paula Henry on Saturday, December 27, 2008 at 10:01 PM
By Paula Henry / December 27, 2008
Comment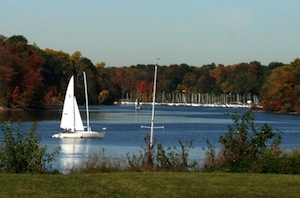 There were no single family home sales in Eagle Creek in November, so, instead of a blank page, I thought you may enjoy a scenic view when the weather was a bit warmer and the trees still had leaves.
There are currently 19 homes available for sale in Eagle Creek and 10 condos in Cobblestone.
Homes for sale in Eagle Ceeek range in price from $194,889 for a 3 bedroom, 2.5 bath home with a 2 car garage and 2023 square foot in The Trees – to a 6 bedroom, 3.5 bath custom waterfront home with 5640 square foot for $1,275,000.
There was one condo sold in November; a 2 bedroom, 1.5 bath with 1365 square feet and a 2 car garage for $114,900.
Condos available in Cobblestone range in price from $99,900 for a 2 bedroom 1.5 bath with 974 squre feet and a 1 car garage to a $140,000 for a two bedroom, 2.5 bath with 1547 square foot and a two car garage.
Search all Homes for sale in Eagle Creek
Search Eagle Creek Condos for sale
---
Statistics were obtained from the Metropolitan Indianapolis Board of Realtors (MIBOR) data and are representative of Indianapolis homes which were sold between 11/1/2008 and 11/30/2008. Available homes were active on 1/28/2009. This data is reflective of homes which were listed on the Indianapolis BLC; private sales are not included. All information is believed to be accurate, but is not guaranteed.
Indianapolis Real Estate Blog, written by Paula Henry, an Indianapolis real estate agent and team leader of The Home to Indy Team at Keller Williams Realty, serving the Indianapolis and Eagle Creek real estate markets.
Contact Paula – 317–605–4174