Exploring the Parks in Brownsburg
Posted by Paula Henry on Wednesday, February 23, 2011 at 4:50 PM
By Paula Henry / February 23, 2011
Comment
As the winter months creep on, it's nice to plan ahead for spring activities. For residents in the city of Brownsburg, the community's parks and recreation department offers a variety of programs through the Brownsburg Community Center and Brownsburg High School Aquatics Center. For those planning ahead, summer camp registration for Tiny Tot Camp and Adventure Camp, begins Tuesday, February15th.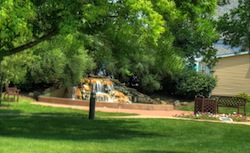 For now, try bundling up and enjoying the colder weather, as winter hikes and outdoor ventures present intriguing looks into local wildlife. Study animal tracks in the snow, or ponder what animals eat in the winter months. The city offers more than 165 acres of public space and five local parks that are ready to be explored. Explore the trails of Brownsburg with your family this summer with The Family Night Hike Series.
Arbuckle Acres Park offers activities for individuals or families looking for a day outdoors. Picnic shelters, playgrounds, paved walking trails, wooded areas for hiking, basketball and tennis courts provide a variety of opportunities for outdoor activities.
The Maple Ridge Trail is a popular option at Williams Park, which also features an ADA accessible trail, picnic shelters, playground, basketball and sand volleyball courts. Just north of Williams Park lies Veterans Memorial, a beautiful garden dedicated to active and retired members of the U.S. military. A pathway of brick pavers are inscribed with names of veterans, which encircles a granite monument listing the names and dates of U.S. military actions.
Stephens Park features open green space, picnic shelters, grills, playground and sand volley ball for an impromptu Sunday picnic, and Cardinal-Delaware property features open space for those looking for some quiet and solitude.
Would you like more information about neighborhoods, subdivisions and living in Brownsburg? Have questions, contact us, we're happy to help!
Brownsburg Indiana Homes for Sale