Fall Landscaping Ideas for Your Home
Posted by Paula Henry on Thursday, October 2, 2014 at 10:30 AM
By Paula Henry / October 2, 2014
Comment
The following is a guest post by Cecily Hood of Contain Yourself Design, an Indianapolis-based company that specializes in seasonal container design, as well as landscaping for both commercial and residential clients. Ms. Hood graduated from Ball State University with a degree in Landscape Architecture, and she has been working in the industry ever since.
Fall is one of my favorite times of the year. Not only is it a beautiful season with leaves changing, it's also a great time to spruce up landscaping because it is prime time for planting! (The cooler weather makes it nice, too.)
If you have recently purchased a new house, you may be looking for some ideas for your landscaping. After all, it sets the tone for your home and can majorly boost your curb appeal. But if you're not an expert in plants, you may be hesitant to make any major adjustments. Well, you've come to the right spot because I'm going to share with you several Fall landscaping ideas for your home.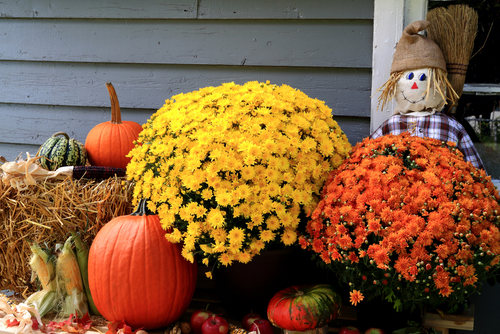 Fall = Ideal for Landscaping
Fall is one of the best times to plant - from Evergreen and deciduous trees and shrubs, to perennials all the way down to grass seed - the weather isn't as hot and we tend to get more rain. These conditions limit the amount of initial stress the plants receive which causes them to adapt to their new environment quickly. Most people think of Fall as the dead time of the year, but I think it's probably the coolest part of a plant's life. All of the blooms that once were have now formed seed pods which add a unique texture to the garden, which we'll talk about a bit later.
Fall is a great time to plant mums, but they are annuals so don't expect them to come back next year. For a fun display, I love to add in straw bales, corn stalks, indian corn, pumpkins, and gourds. There are so many fun accents you can add to really make your landscape pop in the Fall - like ornamental peppers (but don't eat them!).
Starting from Scratch
If you are hoping to completely re-do your landscaping, I recommend hiring an expert - or at least consulting someone who works at a nursery to help give you some guidance. But here are some things to keep in mind when it comes to landscaping.
If you don't like the landscaping that is around the home that you just purchased, ripping it out to start over is fine. But you need to make sure that you account for draining. If you're ripping plants out, you'll be creating a void in the soil where the roots used to be (which soaked up water). So where is the water going to go now? The last thing you want to do is have it go down to the foundation of your house. So make sure you create a slope that goes away from the house.
From there, I like to consider your "foundation planting," which is what you plant around the base of your house so that it doesn't look naked during the winter months. These would be things like evergreens shrubs that keep their needles year round. They can be used up against the house to hold the cover and keep continual interest.
Anchors and Layers
There are no real rules to landscaping in that it really boils down to personal preference. But I like to have anchors - larger trees or shrubs at the side corners of the house to hold your view. So if you look at the house, your eye catches these areas.
I also like to do layers of plants. In a landscaping bed, I would put tall ones in the back then gradually work down to the shorter pieces in the front. If price is an issue, start with some of the foundation pieces in the back (like tall grasses or shrubs) then work your way forward each season as you have more money to spend.
Bloom Time
You'll also want to consider bloom time when you plant. Ideally, you design for all 4 seasons of interest - meaning, you want the landscaping to look good (and have something in bloom) during all 4 seasons. In regards to perennials, Spring bloomers would be flowers like Tulips and Daffodils. Summer bloomers are Daisies, Daylilies, and Phlox. Fall bloomers are asters.
Texture
Another key to planting is to mix textures, which makes just as big of an impact as colors do. Dainty flowers like Nepeta (Catmint) and Echinacea (Coneflower) can be mixed with the harsher foliage of a Perennial grass to create a cool effect of color and texture. Remember when I mentioned the seed pods earlier? They can help add varied texture to your landscaping beds. Plants take on a whole different look in the summer than they do in the Fall. Hydrangeas turn from white to green in the Summer then brown; Ornamental grasses have a plume flower that appears in late Summer and Fall.
Bulbs
Fall is prime time for planting bulbs (tulips, daffodils, alliums, etc). In order for them to bloom, they have to go through a period of extreme cold before they are able to rejuvenate in the spring. If they don't go through that, they won't come up. So if you want Spring flowers, make sure you plant the bulbed ones in the Fall.
Additional Tips
Here are a few additional tips to keep in mind as you're doing landscaping:
Don't plant trees close to your house. They need space to grow; you don't want the branches to interfere with your house or the roots to mess with your foundation.
Fertilize your annuals once a week and water them three times a week (Weather depending).
As a general rule, don't plant anything during a month that ends in "y" (January, February, July, etc). It's too hot or to cold.
Whatever you do with your landscaping, make sure you use plants that you love!
If you have any questions about landscaping or are looking for help with your landscaping, you can contact Cecily via her website.