From Here to There: Uber, Lyft or Cab?
Posted by Paula Henry on Tuesday, January 20, 2015 at 10:30 AM
By Paula Henry / January 20, 2015
Comment
You need to get from Point A to Point B, but you don't have a vehicle. In the past, the obvious choice would be to call a cab. But recent apps like Uber and Lyft are giving cabs a run for their money. With so many options, which is best? Let's take a look at each and what they have to offer.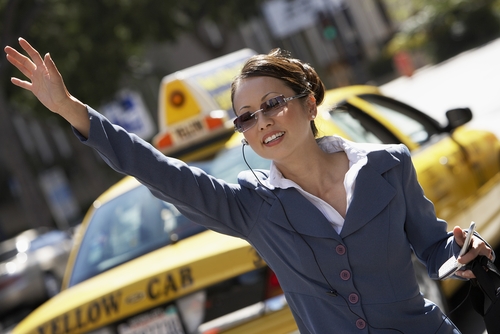 Traditional Taxi
Taxis are the age-old method of transportation in big cities. You step on the curb and hail one simply by raising your hand. You climb in the back of your ride (usually a bright yellow car) and tell the driver where you want to go. The meter on the dashboard keeps track of your bill. Drivers prefer to be paid in cash but some offer credit card swipes. You get from here to there - with varying degrees of cleanliness and professionalism from the driver.
Apps
Not surprisingly, transportation now "has an app for that" that can simplify the process of getting a ride. Rather than hailing a cab or calling a taxi dispatcher, you launch an app. Your phone tells the service where you are and shows you the nearest potential rides on a map with little car icons crawling around the screen like gerbils. As your ride comes to pick you up, you can watch its avatar scamper across the map—offering a level of assurance and ETA not available with traditional taxi companies.
With all the services, you use a credit card through the app—no swiping or fumbling for cash. Lyft and Uber ping nearby drivers and tell you which one will show up. The apps don't automatically calculate your fare, but they warn you if they're going to charge rush-hour rates, called "surge" pricing by Uber and "prime-time" pricing by Lyft.
Oftentimes, these nonprofessional drivers go out of their way to provide good service because they knew that the passenger will be rating them. Most apps let you cancel a pickup from a poorly rated driver.
Uber vs Lyft
Although Uber and Lyft may be similarly app-based, they still have their differences.
Uber = "Everyone's a private driver."
Uber drivers act like chauffeurs, with passengers in the back. They are known for their black cars and SUVs. Uber encourages drivers to be professional, dress nicely, and greet the passenger with an open door. This professionalism trickles down to their UberX product, recommending that drivers wear a collared shirt and generally look professional. They also advise that drivers should put bags in the trunk.
Lyft = "Your friend with a car."
Lyft drivers invite riders to sit up front, affix pink mustaches to the fronts of their cars, and give riders fist-bumps when they hop in. Lyft encourages uniqueness. Drivers are oftentimes musicians, artists, and entrepreneurs, and their personalities come through via their clothing and their cars. Drivers are known to goofy concepts, such as the Disco Lyft, the Karaoke Lyft, and the Chalkboard Lyft. Cars are clean and safe, but rides are treated as an opportunity for an experience.
What it boils down to
Preference is really what it boils down to. If you live in a big city with lots of available cabs, it may be easier for you to step outside and hail one - especially if you may not have joined the smart phone revolution. Uber offers a more cheuffered experience, so it might be your preference if you desire a professional ride. Lyft cars may have a more fun, relaxed, goofy experience (beginning with their bright pink mustaches). You can't go wrong with any of the three. It's just a matter of how you want to get from here to there.