Getting Your Home Ready for the Holidays
Posted by Paula Henry on Saturday, December 10, 2011 at 12:45 AM
By Paula Henry / December 10, 2011
1 Comment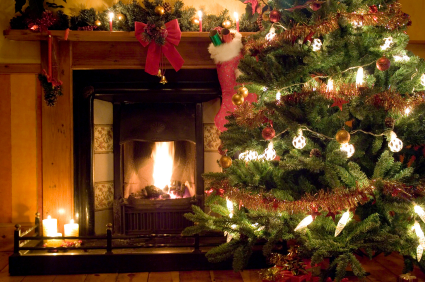 The holidays are quickly approaching, and if you're hosting the party, you're probably dizzy thinking of ideas to make it an event to remember. The holidays are so much better when children are present, so make sure you include activities to meet their ideas of fun.
My home is always bustling with activity this time of year, and I find the more bodies there are in the house, the better the holidays are.
So if it's your first time celebrating the Christmas season at your home, here are a few tips to liven up the party:
Scents: You can't celebrate the holidays without scents. Everyone loves the smell of candles, or even plug-in air fresheners, and the amount of different smells may amaze you. But for this particular holiday, my favorite scents have to be orange, pumpkin, cinnamon, and apple spice. There is nothing quite like walking into a home filled with any of these scents, but you can use any of your personal favorites. The glow from the candles also brings back memories with the dancing lights, which will add to the atmosphere of your holiday.
Atmosphere: The atmosphere of a home plays a major role in the overall success of your party. You may decide to have Christmas lights, festive settings, and Christmas music playing in the background. Everyone has their own idea of Christmas, so when you have the family together, don't forget to include your long standing traditions. It's the perfect time to introduce the young ones to what your family has passed on for many generations. The holiday spirit and tradition will leave a lasting memory they will never forget.
Fun: Christmas is a time of excitement no matter what age. Plan some games for the big day, and let the kids pick some games the adults have to play too. This season is a special time for family, so everyone should get together and enjoy each other's company. Everyone is in a good mood during the season, and spending quality time with each other is what ties those family bonds tighter.
Be Prepared and Organized: There's no holiday that gets as crazy as Christmas. There are usually too many people to fit into a home, and when it comes time to eat, your home can turn into a buzzing frenzy. Preparing before the day can help to keep the level of frustration low. Find out how many people are coming ahead of time, and be sure there are enough spaces for everyone to eat. When you're anticipating a large number of people, it's best to have everyone pitch in with their favorite dish.
Beverages: Beverages are often something that is forgotten when you are having family over. Only you will know what is best to provide for your family, but you can never go wrong with stocking up on juice and soda for the kids.
Christmas is exciting, but it's always a relief when it is over. There seems to be an endless number of items to prepare, things to do and don't forget the shopping. Pace yourself, get some help and allow yourself to enjoy this special time. As long as you prepare well in advance, you and your home will be the star of the evening and you'll have as much fun as the guests visiting your home.