Home Cleaning Tips
Posted by Paula Henry on Sunday, March 2, 2014 at 11:00 AM
By Paula Henry / March 2, 2014
Comment
Spring hasn't quite sprung yet, but it's never too early for some spring cleaning! (Or maybe think of it as pre-spring cleaning or mid-winter cleaning!)
Whether you're a regular Martha Stewart or you're new to using some elbow grease, we've got a list of areas in your home that could use a little love, especially if you're looking to get it on the market in the near future.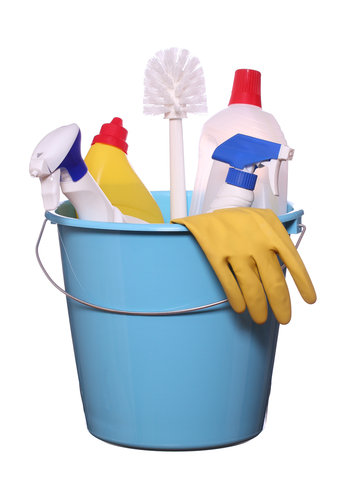 Clean Windows
Dirty panes are no match for rubber-edged squeegees, which are quicker and more effective than cloth or newspaper. They come in a variety of sizes - and have screw-on extensions that will help you access hard-to-reach spots!
Dust Lightbulbs
Unscrew and polish lightbulbs with a microfiber cloth dampened with water. The shine will surprise you!
Wash Blinds
Wipe wooden blinds with a few drops of wood cleaner on a nearly dry sponge. Aluminum ones can be washed outside with water and a non-corrosive cleaner. Dry them thoroughly to prevent rust.
Adjust the Fan
It's recommended to run fans clockwise in cold weather but switching to the counterclockwise direction creates a pleasant breeze during warm months. Most fans have a switch on the base to adjust the rotation.
Protect Wood Floors
To guard against scratches, make sure there are surface protectors on the undersides of furniture legs. If any are dirty or worn, it's time to replace them.
Clean the Refrigerator
Always wipe up spills and throw away food that may have expired on an ongoing basis. For deep cleaning, use a toothbrush to scrub hard-to-reach places. Wash the interior with a solution of 2 Tablespoons of baking soda for every quart of warm water.
Deep Clean Carpets and Rugs
Rent or buy a shampooer, a machine that cleans rugs using soap and hot water. Open windows to let the air flow, allowing them to dry easier.
Clean Curtains
Vacuum and steam-clean curtains, or have them dry cleaned.
Replace Batteries
You should replace the batteries in your smoke detectors every six months. Let spring cleaning remind you to change batteries now; then again when Daylight Savings Time hits in the Fall.
Happy Cleaning!