Home Fire Caution
Posted by Paula Henry on Sunday, September 7, 2008 at 8:16 PM
By Paula Henry / September 7, 2008
1 Comment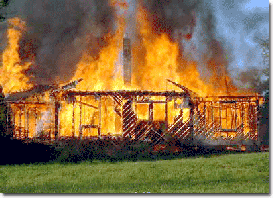 Tonight, I was at my daughters when a loud boom pierced the evening calm, then the sound of firetrucks converging on the neighborhood.
Of course the neighbors gathered around to see what had happened. The sight of the home on fire reminded me of a similar fire in my neighborhood when we lived in California.
The garage was blown out and both cars in the driveway were charred; the glass on both vehicles appeared melted. Luckily, noone was hurt.
I'm not sure about the cause of this fire tonight, but the one in California was the result of a propane tank not being properly closed on the gas grill. The grill was stored in the garage. With the propane slowly leaking from the tank, it wasn't long before the gas furnace ignited the leaking propane.
To watch a fire consume your neighbors home is a frightening experience. As fall approaches and we store our gas grills, please be cautious if you are storing these items in the garage.