How Interest Rate Affects the Purchasing Power of Buying A Home
Posted by Paula Henry on Wednesday, August 24, 2011 at 8:44 AM
By Paula Henry / August 24, 2011
19 Comments
If you locked in your interest rate on a home this past week, congratulations! The Indianapolis real estate market may not find better interest rates than we have right now.
The current mortgage rates make buying a home in Indianpolis

a better financial option than leasing.
A recent call from someone asking about a lease had me thinking about what the monthly cost of leasing vs. buying would be for the same home, if this person actually bought the home.I ran the numbers based on today's interest rates, as shown in the graph.
The Cost of Renting vs. Buying
In this particular case, they were looking at homes in Carmel which would sell for about $180,000. If they bought this home with an FHA loan, the monthly payment would be about $1249.00, including taxes and insurance. This amount includes the cost of mortgage insurance and would require about $6300.00 down payment plus closing costs.
The home leased for $1600.00, so buying the home would save them about $350.00 a month.
If they bought the home using a conventional loan with 20% down, the payments would be approximately $980.00. A monthly savings of $620.00 vs. leasing.
Downpayment Assistance for Home Buyers in Indianapolis
For those who don't have the down payment, Indiana Housing has a great down payment assistance program for home buyers in Indianapolis, called the Next Home program. Today's interest rates make it more affordable than ever to buy a home.
The Effect of Higher Interest Rates on Your Home
As interest rates rise, so does the monthly payment for your home. Here's a look at how the principal and interest of your loan will change as rates rise. The following graph is principal and interest only on a loan amount of $150,000.00.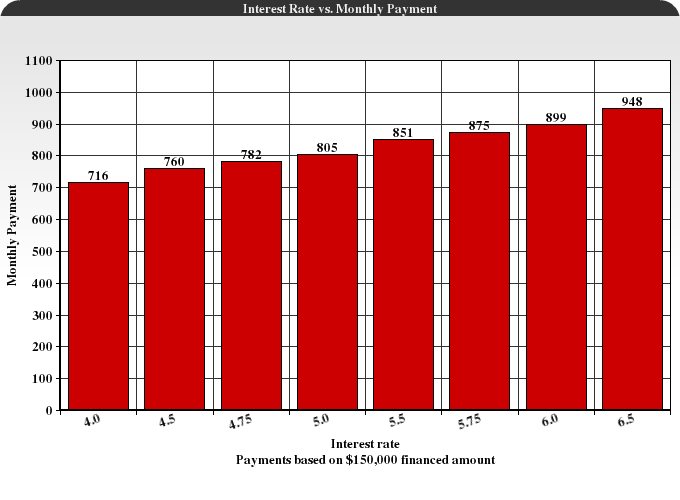 Additional Monthly Cost of Your House Payment
Besides the principal and interest on your loan, you will need to add taxes and insurance. Additionally, if you put down less than 20%, you will have property mortgage insurance (PMI or MIP). In the above scenario, assuming you are financing $150,000 on a purchase amount of $155,440. with an FHA loan at 4.5%, your payment would include the following amounts added to the principal and interest of $760.00.
Taxes - 1% of assessed value - approximately $129.00 a month
Insurance - Approximately $100.00 a month
MIP - approximately $144.00 a month.
This would make your monthly payment about $1133.00; saving about $460.00 a month compared to leasing.
Lenders will also figure in the cost of HOA fees when qualifying you for a loan payment.
Related Articles: