How to find and hire a great babysitter in Indianapolis
Posted by Paula Henry on Sunday, November 3, 2013 at 9:00 AM
By Paula Henry / November 3, 2013
Comment
Many of our Indianapolis clients who are first-time homebuyers are starting a family. There are so many things to consider when you have a growing family--preschools and childcare facilities, school systems, parks and playgrounds and neighborhoods. All of these things factor into one of the biggest decisions a family can make.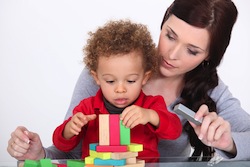 Along with those other major decisions like picking a great Indianapolis community and school comes the more minor, but just as important, decisions about childcare, like babysitters. Every parent needs a night out or a weekend away from the kids occasionally, and it's best to have trusted babysitters on hand when those times arise. Not everyone has the luxury to call a family member or close friend to watch the kids for a few hours, and even those who do still need a backup plan when family members are busy.
When looking for babysitters in Indianapolis, it is always best to follow a clear routine to ensure that nothing is forgotten. If you have a large network of friends and family, hiring a qualified and trusted babysitter might be easy. If you're struggling to find good childcare, you can turn to online services like Sittercity.com.
Sittercity recommends following a clear routine with the suggestions of the following steps:
1. Post your job
Post your job on Sittercity, or a message to friends and family on Facebook. List clear expectations and needs for your family. Ask for references.
2. Pick your top 5-10
If you get a lot of responses, go through and make a list of your top picks.
3. Initial screening
If you use a service like Sittercity, you can check online feedback on the sitter. If you're using more casual methods of searching like Facebook and email, send messages to the candidates references asking for feedback. This will save you a lot of time since you probably won't want to interview all of your top 10 candidates.
4. Phone interview
This steps is optional. You could go straight to an in-person interview, but if you still have a good sized list and you'd like to save some time, a phone interview is a good start. You can tell a lot about someone's personality by their tone of voice: do they sound cheerful, happy, or negative and unenthusiastic? Listen to your instincts and if something doesn't feel right, don't pursue next steps with that person.
5. In-person interview
Use the checklist below to conduct an in-person interview with each person from your remaining list of candidates. Don't be afriad to get the whole family involved; watch the candidate with your children, pets, spouse and see how they interact together.
6. Final reference check
You might have collected more references, or didn't get all the references checked before the interviews. Candidates on Sittercity list at least one reference on their profiles, so call or email them and ask questions about the candidates personality traits (flexible, mature, energetic, timely?) and how she was with the children, if the children liked her, and if they would hire her again. Listen to tone of voice, hesitations, and enthusiasm-level of the person giving the reference.
7. Select your top 3
Pick your favorite of the three and use that person as your primary sitter. The other two babysitters can be part of the backup team. You can never have too many options when it comes to babysitters.
8. Run a background check
Sittercity recommends running a background check on your babysitter before finally hiring her, which can you do through their partner for 14.99. Definitely worth the peace of mind.
Parent-Babysitter Interview Checklist
Be prepared for the interview with an extensive list of questions. You may not need them all or you may decide to really put the candidate through the ringer. It's up to you!
Pre-Interview Preparation
Do your research, search for information on a potential candidate on news sites, Internet search engines and social media.
General Questions
What is it that you like about babysitting?
What do you look for in an employer/family?
What is your rate?
Have you ever been arrested or convicted of a crime?
Are you OK if a job runs later than planned?
Do you have a backup ride home in case we cannot drive you?
How soon will you let us know if you can't do a job?
Background and Experience
How many years have you been working with children?
What child care roles have you done in the past? Sitter, nanny, coach, etc.?
How many families have you cared for and how old were the children?
Do you have experience in bathing children?

Sitter's Circumstances
Do you live nearby? How can you get to jobs with us? Car, etc.?
What is your course of study in school or what is your full time job?
Do you have any allergies to cats, dogs or other pets?
Are you uncomfortable around or scared of any particular pets?
Do you have any particular religious affiliation that might affect the way you care for our children?
(For nannies) Do you plan on taking any time off in the next six months?
Training and Safety
Do you know First Aid?
Do you know CPR?
Are you familiar with the Heimlich maneuver?
Can you swim?
Are you familiar with emergency numbers?
Can you drive in an emergency?

Behavioral Questions
Tell me about a time where you faced a crisis on the job. How did you handle it?
What would you do with the kids on a day like today?
What do you do when a child refuses to go to sleep?
What do you think is the best way to handle tantrums?
What is your proudest moment in babysitting and why?
What was your worst experience in child care, and how did you resolve it?
What kinds of discipline have you implemented in the past Spanking, etc.? Are you willing to change if we ask?

Responsibilities and Tasks
How do you feel about play dates for my kids? Can you help arrange these?
Can you care for more kids if we have a play date in the house?
Are you OK assisting with homework, possibly making dinner and/or doing light housework?
Are you comfortable watching my child as a mother's helper if I decide to stay home during a job?
Are you willing to help with overnight care if needed?
Can you travel with my family if we need you to?

If Newborns are Involved
Are you comfortable sitting for newborns?
Can you change a diaper?
Do you know infant CPR?
Can you properly carry and pick up a newborn?
Do you know about SIDS and how to prevent it?
Can you prepare and heat formula correctly?
Are you familiar with Shaken Baby Syndrome?
Do you know the proper size for baby chewables and how to prevent choking?
Can you tell if a room is childproofed?

If the Sitter will be Driving
Are you comfortable driving children in the car?
May I see your driver's license?
How many years have you been driving?
Do you have any marks against your driving record (speeding or accidents)?
Having a clear, step-by-step plan for hiring a great babysitter in Indianapolis will help make the process smooth sailing. Good luck and happy evenings out!
Source: Sittercity.com