How to Make Homemade Cleaning Products
Posted by Paula Henry on Thursday, November 13, 2014 at 10:30 AM
By Paula Henry / November 13, 2014
Comment
Cleanliness is next to godliness, or so they say.
Chances are, if you've moved into a new home - or if your house is on the market to sell - you're going to need some good cleaning products beyond good 'ol elbow grease. Why spend money on name brands when you can make some at home that are just as effective? Check out some great recipes below!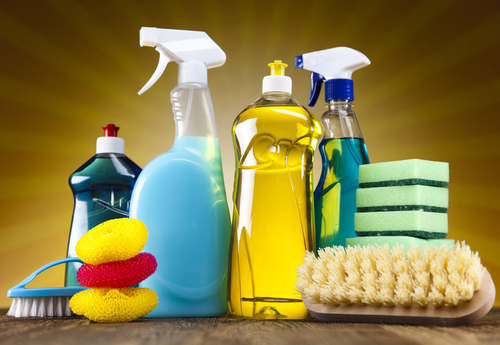 Liquid Dish Soap
This gentle cleaner takes about 2 minutes to make and makes 16.5 ounces.
Ingredients:
2/3 cup liquid castile soap
3 tsp. vegetable glycerin
5 drops tea-tree essential oil
20 drops lemon essential oil
1 1/3 cups water
Combine ingredients in a 24 ounce squirt bottle (or empty liquid dish soap bottle) and shake well to emulsify. It's works great on countertops, too!
Dishwasher Detergent
This recipe makes enough for 32 loads of laundry.
Ingredients:
2 cups washing soda
2 cups borax
25 drops grapefruit essential oil
Stir ingredients in a bowl until clumps are eliminated. Transfer powder to a plastic storage container. Use 2 Tablespoons per wash.
Toilet Bowl Cleaner
This recipe harnesses baking soda's gentle abrasiveness, vinegar's acidity and the stain-lifting power of the fizz created by mixing the two, plus tea-tree oil's antibacterial capabilities.
Ingredients:
½ cup baking soda
10 drops tea-tree essential oil½ cup
distilled white vinegar
Pour baking soda directly into the toilet bowl, add oil, then vinegar—in that order. Let water effervesce for several minutes, then scrub bowl with brush. Flush.
Glass Cleaner
Use rubbing alcohol and white vinegar to clean windows, mirrors and car windshields.
Ingredients:
3 cups water
2 Tbsp. rubbing alcohol
¼ cup distilled white vinegar
5 drops lavender essential oil (optional, for scent)
½ Tbsp. liquid castile soap
Put the first 4 ingredients into a bottle and shake. Add the soap and shake well. Spray windows; wipe with newspaper.
With these easy recipes, your house will be spotless in no time! (Whether or not this actually makes you godly is still to be determined.) Happy cleaning!