Indianapolis Home Show Review
Posted by Paula Henry on Saturday, February 22, 2014 at 5:53 AM
By Paula Henry / February 22, 2014
Comment
Earlier this month, I went to the 2014 Indianapolis Home Show. I went because I thought there might be something worthwhile to pass along. I went for you. However, before I ever set foot in the event, I made a crucial error which had two very unpleasant results. My mistake was going on a Saturday. Why I went on a Saturday when I have the flexibility to go on a weekday morning, I cannot say. But the first unpleasant consequence was the crowds. They were just a little bit ridiculous. And by a little, I mean...a lot.
I spent my time walking around and imagining a divided lane system for events like this, so that the slow walkers could walk slowly and the fast walkers could pass through. This way, no one feels rushed, but neither does anyone think they might die befre they reach the restroom. Honestly, I think this idea could revolutionize massive wandering events like this.
I further suffered a penalty because the Saturday in questions was 34 degrees of freezing rain and the only available parking was located on the far East side of the fairgrounds. The far East side in contrast with the pavilion where the show was located, which was the farthest building to the West. So, in all fairness, I may have been out of sorts to begin with and it wasn't really the event's fault. Per se.
However, I will share that my take-away from the home show wasn't totally positive. I will grant that I fall pretty heavily on the side of supporting businesses which have local roots and that the main difficulty that I had with the show was the number of what I consider "big-box" vendors. Vendors like Sleep Number Bed and Xfinity. While I get that those big sponsor dollars make it possible to have a space large enough to accommodate 25,000 square feet of landscape demonstrations alone, events of that scale also make it difficult for small businesses to be able to afford a presence there. Frankly, those are the ones I want a chance to get familiar with. For my admission money, I'd gladly pay the same or even more to get to go to a fair where, I see companies relevant to my area and who are native to my home, even if it was smaller and had fewer big name guests.
As a consumer, I know that when I spend money on a window company owned and operated here in Indiana, I'm pumping my money back into my local economy. That makes sense to me, and I felt like it was worth saying, in review of this event. Now, that said, here are a few things I did think were pretty great.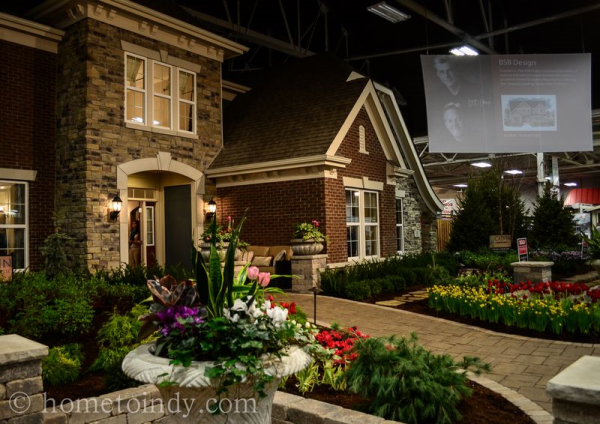 I will own that they did a beautiful job with the display of the model home. The landscaping was lovely, although after a winter of all white, I'm sure my spring-hungry eyes would take any sight of flowers blooming that they could get.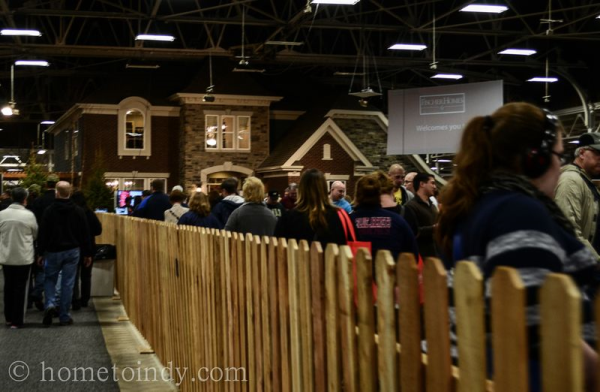 However, this was the line to see the home. The queue was as wide as the house itself, and I really couldn't see the point in spending 3 hours in line for a 10 minute look. Honestly, if I want to look at homes, I'll call a Realtor, make an appointment and avoid the wait time.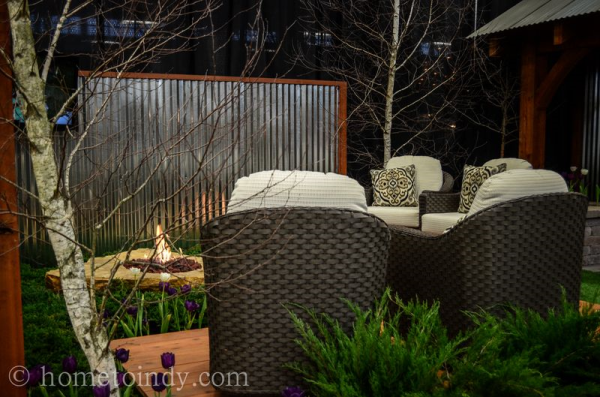 BPI Outdoor Living - They really did an amazing job with their outdoor living space display. I loved their use of color and texture. It was one of my favorites at the show and I would've been completely content to climb into one of those chairs by the fire and people watch from my tree-lined perch.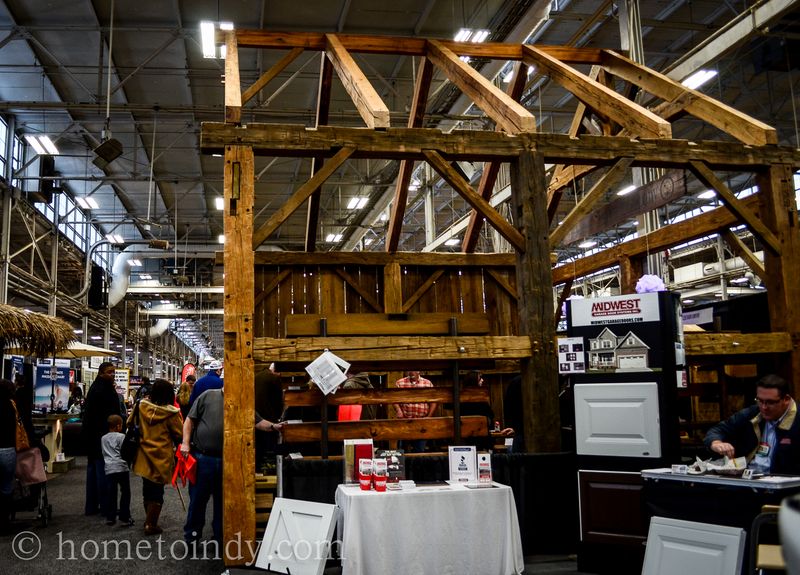 Timeless Barn Company - Amish built barns? Yes please. Certainly the most unique display at the home show, at least in my opinion, although I'm a sucker for barns. They have a fantastic website that I enjoyed looking at, as well, and I learned they do everything from furniture to cabinetry to mantles and even houses.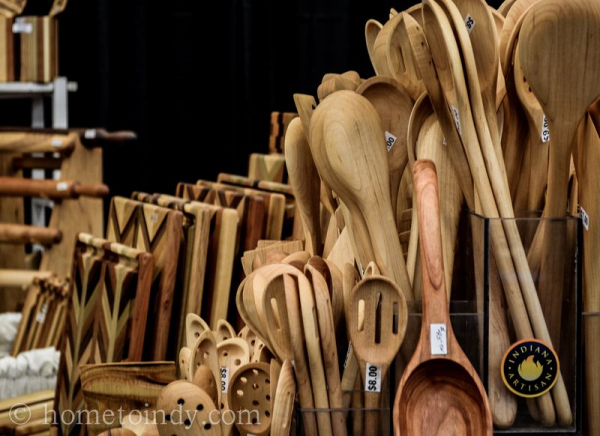 Dickinson Woodworking - Another local, artesinal company, they do woodwork both big and small, from spoons to furniture.
All in all, if you thought about going to the home show but didn't make it, I think I pretty much covered everything that you missed...except maybe the roasted pecans, which always seem to be at home shows and are delicious.
Did you attend? Did you find something good that I missed? I'd love to hear about it, if you did.