Indianapolis Property Tax Rebates ~ Clear As Mud
Posted by Paula Henry on Saturday, June 30, 2007 at 3:01 PM
By Paula Henry / June 30, 2007
Comment
Dear Prospective Client: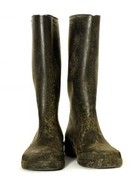 I must tell you up front there is a new form attached to the Indiana Residential Real Estate Contract I do not understand. Oh, I will try……..but even with these boots, I'm not sure I can trudge through the uncertainty of the current "new" form (2007 Property Tax Rebate Disclosure Form) I must have you sign. One thing is certain, I won't be alone! By now, all the great citizens and taxpayers of Indianapolis have been made aware of property tax increases affecting homeowners.
As a Realtor in Indianapolis, one of my obligations and required documentation I must have is a estimated costs sheet for buyers or an estimated net proceeds for sellers. Generally this is not too complicated, except for one little cost.....the tax rebate. The new form requires me to let you know about the possible rebate. The form acknowledges there may be some confusion and/or disagreement over which party (buyer or seller) should receive credit for the anticipated tax rebate. Okay – we are good so far………the amount should be able to be prorated or agreed upon at closing, just like taxes. Herein lies the problem:
Homeowners will be required to pay the full amount of their 2007 tax bill

A tax rebate is anticipated, but, not guaranteed

The anticipated tax rebate amount is currently unknown

The tax rebate will not be available for some time

The rebate plan is contingent upon funding provided by the Property Tax Reduction Trust Fund

The anticipated tax rebate will likely be mailed to the same person who received the property tax bill.
Everyone of these "bulleted points" can be found in the Disclosure Form I now have to have you sign, indicating you have read and have been notified of the Indiana 2007 Property Tax Rebate Plan. It does not say you have to understand the rebate plan, only that you acknowledge there is one. Well, there's kinda one…………. This becomes a source of frustration when trying to represent you, my client.
While we know the amounts of the tax paid, how on earth do you negotiate an amount already paid, which may or may not be rebated and to whom it will be rebated? Our Indiana Association of Realtors has drafted this from for your benefit. It is the best we can do with the uncertainty surrounding the Tax Rebate. Sometimes all we can do is inform you. I am busy trying to figure out some answers. If you don't hear from me soon….I held my breath too long!
Search Indianapolis homes for sale and call me if you have questions about property taxes.