Indianapolis Ranked 6th Best Bargain Market - It's Not All About Price
Posted by Paula Henry on Wednesday, July 2, 2008 at 8:19 AM
By Paula Henry / July 2, 2008
2 Comments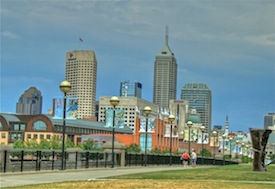 You've heard me say it time and again, I love Indianapolis! I didn't need a "best of" list to make me believe Indianapolis is a great place to live, but when the news prints something that speaks of the great benefits of living in Indianapolis, I'm right there, saying, YES! MSN, with the help of Sperlings Best Places, has just published it's "Real Estate Best Bargain Markets".
Read the full article here. I was happy to see the criteria wasn't based on price of homes alone. The factors considered when compiling the list were:
Most livable area
Strong economy
Home prices are appreciating
Quality of life
Low unemloyment
Short commute times
Entertainment and recreation
Housing affordability
Once the figures were compiled and the list created, Indianapolis ranks as the 6th best real estate bargain market. When it comes to Real Estate, Indianapolis is one of the most affordable cities in America.
Again, it's not all about price, though. It's the bargain of living in an affordable city with access to a wide range of benefits and amenities Where else can you have access to a dynamic, renovated, revitalized downtown like Indianapolis?
You want sports, we got it! Arts and entertainment, check! Museums and culture – done! If you need more ideas about what to do in and around Indianapolis, search AroundIndy.com. You want to know more about real estate in Indianapolis and the suburbs around Indianapolis, you know who to contact.