Indy Food Trucks: Feed the Hunger
Posted by Paula Henry on Sunday, June 26, 2016 at 7:56 PM
By Paula Henry / June 26, 2016
Comment
Feed the hunger at your local Indy Food Truck and sample the goodness.
Food Trucks have become a regular site in Downtown Indianapolis, especially during the lunch hour. Feasting on your favorite meal or treat while enjoying the summer days and sunshine is also good for the soul.
The food trucks in Indianapolis gather throughout the city and neighboring communities regularly and for special events.
The original First Friday Food Truck Festival at the Old National Center offers fun times with local entertainment, boutique trucks, food trucks, friends and neighbors. Find out more about First Friday's here and on their Facebook Page.
Every Friday on Georgia Street, you can enjoy your favorite truck from 11:00-2:00. Take a break from the office, grab lunch, get some work done outdoors.
Looking for a new idea for your event or neighborhood get together. Bring the food trucks to you!
I've actually seen food trucks in local neighborhoods on a regular basis. This one was in the Herron Morton neighborhood on a weekday evening.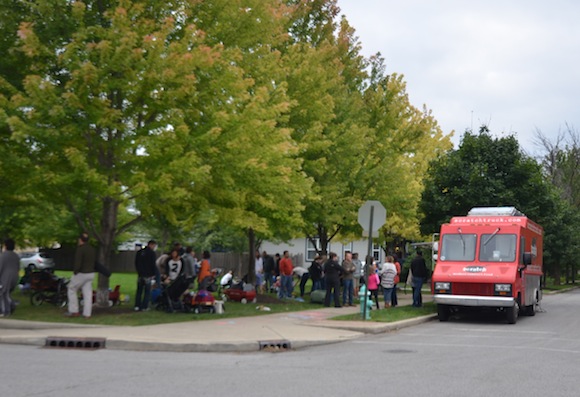 In our mobile age, it seems fitting to have dinner delivered to your neighborhood.