Is Hansen and Horn the Next Casualty of The Indianapolis Real Estate Market
Posted by Paula Henry on Wednesday, November 25, 2009 at 9:07 PM
By Paula Henry / November 25, 2009
3 Comments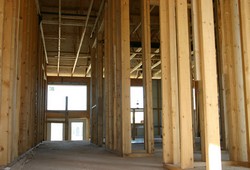 Will Hansen and Horn Home Builders be the next casualty of the Indianpolis real estate market?
The talk on the street indicates it is probable. It was first reported on WishTV.com the Indianapolis home builder was having problems paying bills and is being sued by subcontractors for money they are owed.
Customer complaints about work which had not begun or homes not completed on time also made the news. The Indianapolis Star picked up the same story, stating the Builders Association of Greater Indianapolis (BAGI) had canceled Hansen and Horn's membership.
The Indianapolis Business Journal reports a Marion County judge has frozen certain assets of the company, citing several lawsuits against the company.
To make matters worse, the BBB has given the home builder an 'F' rating. The future does not look good for Hansen and Horn, who is currently building in about 20 neighborhoods in Indianapolis.
Hansen and Horn was the builder for the Anson Project. When KB homes pulled out of the Indianapolis market, they were also the chosen home builder for Anson in Zionsville.
Rumor has it financial mismanagement is key to the problems facing Hansen and Horn. I'm not sure if it's the economy, bad management or financial lethargy; whatever the cause, Hansen and Horn may find themselves following the path of Davis Homes - KB Homes - CP Morgan - Portrait Homes and many small builders who did not plan for a long rebound of the real estate market.
Note: KB Homes is still an active home builder in other states and voluntarily pulled out of the Indianapolis market.
Copyright © 2009 by Paula Henry, All Rights Reserved. *Is Hansen and Horn the Next Casualty of The Indianapolis Real Estate Market*