Is it Better to Rent or Buy?
Posted by Paula Henry on Saturday, March 29, 2008 at 9:03 AM
By Paula Henry / March 29, 2008
Comment
The answer really depends on your personal objective and time frame.The longer you plan to live in a home, the more sense it makes to own. While I can't simply answer the question for you, I have found this cool tool which can assist you in evaluating the costs involved for both options.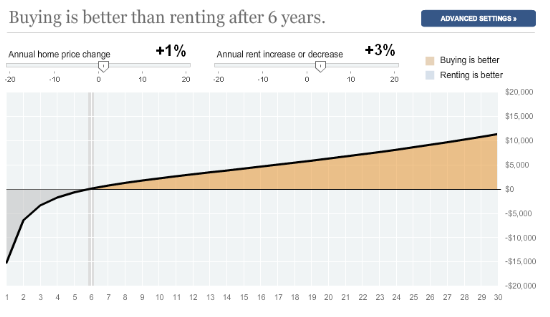 By inserting a few details you can determine how long it would take to break even, depending on down payment, interest rate and costs to buy. You can also utilize the advanced settings to include more specific costs and deductions.
This is simply a 'numbers' tool and does not consider other intangibles associated with owning your own home.
Things like:
painting the room the color you want

growing a garden or landscaping

installing a fence or basketball goal

updating your home

the security of knowing the landlord can't move you at the end of the lease.
In matters of finance, it is always best to check with your financial adviser. Click here to use this tool.