Jog, Walk, Run Indianapolis - The Many Races of April
Posted by Paula Henry on Tuesday, March 25, 2014 at 5:20 PM
By Paula Henry / March 25, 2014
Comment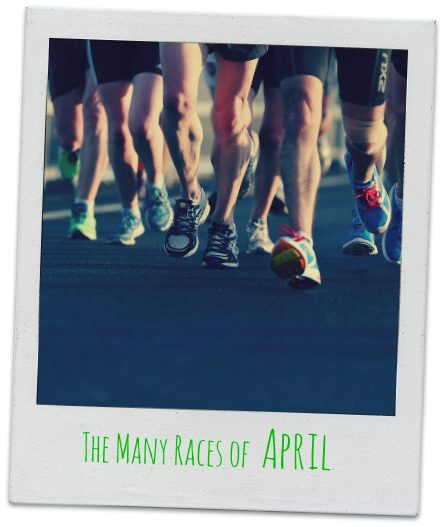 Everyone knows that the Indianapolis Mini Marathon lives in May, which is fast approaching, but if you're looking for some good warm-up events between now and then, here are some which are colorful, fun and for great causes to get your feet wet on. Well, hopefully not wet, because that might cause blisters. And speaking of avoiding blisters, here are our top three race ready tools;
Train to the right BPM. Studies say that working out to music can increase your endurance by up to 15% Here and here are two super cool of workout playlist apps.
For the blisters that are bound to happen, second skin sticks to your feet in your shoes, even if your feet get sweaty damp.
They say that during activity you should be drinking water every 15 minutes. So fine, when I'm outside for a practice jog (or walk or whatever) that means I'm usually carrying keys, some form of ID, some form of money (In case I collapse and have to call a cab? I don't know why really, although I'm sure that's not impossible.) and a cell phone.



So if you're not going to wear a fanny pack, this can be a lot to carry. Which is why....

this!

This water bottle has a built in carrier for a key, some ID and money. I say; "Genius!"
Races in April - Choose the one for you!
April 12th 9 a.m. (Registration opens at 7a.m.) Susan G. Komen Race For The Cure @ Military Park | Registration
One of the biggest 5K events every year, full to brimming with everything pink, the Race For The Cure can be a celebration and a memorial and hopefully a fundraising event that contributes to bringing down breast cancer forever. Walks, runs and timed runs available for the whole family.
April 12th 8:30 a.m. 5k To Benefit Payton Manning's Children's Hospital @ Butler University | Registration
Held on Butler University's lovely campus, this 3rd annual race to benefit Payton Manning's Children's Hospital will be a treat for every age. The event features a live DJ, games, food, drink, raffles, mascots, face painting and beyond. Another fun point is that kids race free! There are awards given for each age group. Find out more on the registration page.
April 19th 9 a.m. Bunny Rock 5K @ 801 W. Washington St | Registration
What more natural combination than Easter bunnies and 80's Rock? There is bound to be lots of fun at this all age event. This race has both, plus an egg hunt, petting zoo and chance for pictures with the Easter bunny.
April 19th 9 a.m. Dash for Disabilities 5 & 10K @ Eagle Creek Park | Registration
Race with Disability Legal Services of Indiana at the 3rd Annual 10K Run/5K, open to all ability levels. This event is open to the whole family and supports educational advocacy for children with disabilities .
April 19th 8 a.m. Rock The Relay @ White River State Park | Registration
A chance to race as a team of up to six participants, this relay is a fun event for runners and walkers with multiple distance options depending on your team size and personal goal.
April 26th 10 a.m. (Registration at 8 a.m.) Best Buddies Friendship 5K Competitive Walk/Run @ Whiteriver State Park | Registration
In this event, participants walk for inclusion, friendship, leadership, and opportunity for people with and without Intellectual and Developmental Disabilities (IDD).
April 26th 9:30 a.m. Boaz Project Run for an Orphan 5K Walk/Run or 1 Mile Walk @ Craig Park in Greenwood | Registration
This family friendly walk to support orphans in Russia and India includes options for walk, run and chip timing.
April 27th 9 a.m. Carmel Triathlon S: 400m, B: 9.5 miles R: 3.1 miles @ Carmel Highschool | Registration
Multiple distances - I attribute this to the fact that I didn't swim in lakes as a kid, but there is something oddly empowering about the idea of the swim portion of an event being held in a pool