Keeping it Cool: How to Condition Your Air Conditioning
Posted by Paula Henry on Tuesday, August 12, 2014 at 10:00 AM
By Paula Henry / August 12, 2014
Comment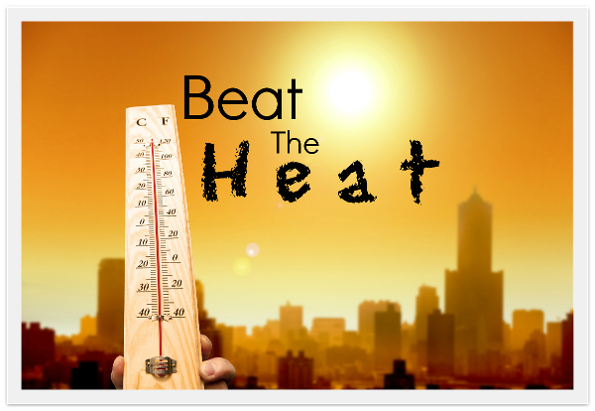 Temperatures are climbing, and I bet Gene Ray Heating and Cooling and Thiele are in high demand again. (Both locally owned and operated service providers with a good reputation here in the city.)
If you know what's good for your AC—and your sanity, you'll check in with the health of your air conditioning unit now, before it's having to work really hard, to save yourself the headache of a breakdown or higher bills than necessary when the heat is high! Here are some tricks to keep your air conditioning going strong, as we head into the dog days:
Make sure the filter's filtering—but not too much.
See your unit's filter's minimum efficiency reporting value, or MERV. This ranges from 1 to 12 for home AC units. A higher number means better filtration, but it takes more energy to pull air through and around, so you'd want a nice balance between air-quality and energy costs.
Find the leaks and fix them.
If your formerly fast and trusty unit is suddenly taking far too long to cool the room, you might have a leak. You can use the old "smoke trick" to find any leaks. Not sure how to go about this? Here's a video from This Old House that takes you through the process of detecting leaks, step-by-step. To repair ductwork, use foil tape to seal small gaps and duct mastic for larger ones.
How's your insulation?
This could save you hundreds of dollars. One of the things that might cause your AC (or furnace, for that matter) unit will work harder than necessary is un- insulated air ducts. Especially if you live in an older home, but even in some newer homes, it's a good idea to check to see if your duct work has been insulated. If your ducts aren't insulated your AC works first has to work to cool hot air in non-insulated ducts. That means more energy consumption, which in turn means more dollars out the door.
So make sure your ducts are wrapped to prevent hot attics or crawl spaces from turning the air in the ducts hot. You can use spray foam, batt insulation, or rigid-foam insulation. Seal batt and rigid insulation with foil tape (not duct tape). For tight spaces, wraps like Reflectix offer some degree of insulation.
Here's a video demonstration of one method!
Help your AC cool you.
Where's the sense in having the AC full blast if the sun is roasting the room through the windows? This can be especially challenging if you have an East/West exposure for your home. It's beautiful for light, but it's certainly a bit more challenging in the Summer. Use blinds and even awnings to keep off the intense heat, use floor or ceiling fans for a cool breeze and air circulation and check the efficiency ratings of your windows and close off the
This might be the year your AC should be retired.
If your chilly friend is approaching or more than 10-15 years old, chances are it's not as efficient and eco-friendly as it should be. Not only does this affect your bills, it's also against the law to run less-than-efficient AC. The SEER and EER (seasonal/ energy-efficiency ratio) for central units must have a minimum rating of 13. This doesn't mean if yours is less than that number you must go purchase a new one right now; it just means that when the time does come to get a new one, retailers are no longer allowed to sell you a less efficient unit. And. if your AC has a higher number, good on you. The higher the number, the better the savings!
Sign up for annual maintenance.
This is where your local friendly HVAC comes in. It's just a good idea to have regular maintenance on your major appliances. Just like you would change the oil on a car, your AC is no exception. Every year, ideally before the cooling season, have someone do the following for your AC:


clean and inspect coils

clean or replace filters

adjust and replace fan belts

lubricate motors and bearings

clean and check blowers and fans

inspect controls and safeties

verify operating temperatures
Hopefully these little steps prove useful to you this summer and beyond, where my wish for you is that you "be cool!"