Living at Eagle Creek
Posted by Paula Henry on Saturday, October 25, 2008 at 11:02 PM
By Paula Henry / October 25, 2008
Comment
While driving down 56th street today, I again marveled at the beauty of Eagle Creek. When you pass Eagle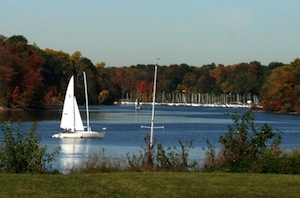 Creek area off 56th Street, it is no longer a creek, it is the Reservoir. It is one of the most beautiful places in Indianapolis.
Immediately off the exit is the entrance to Eagle Creek Park and if you have never been, Fall is a wonderful time of year to enjoy a drive through the park. As you travel west, you cross the bridge over the Reservoir and today the sailboats were out, the sun was just starting to peek through the clouds and the fall colors made me want to stop right there to take pictures and enjoy a bit of the magnificence of the beauty.
It must be wonderful to live along the reservoir and wake up to the sounds and beauty of the natural surroundings here.
It's a bit of heaven in the center of Indiana.
Take the drive someday and see for yourself.
Search Eagle Creek Homes for Sale