Marketing Matters When Selling Your Indianapolis Home
Posted by Paula Henry on Thursday, January 24, 2008 at 11:35 AM
By Paula Henry / January 24, 2008
8 Comments
Marketing a home in today s market requires more than a sign, an ad, a lockbox and a prayer! Today s real estate professional has to be proactive and progressive when it comes to marketing and selling homes.
I have heard it said, A Realtor s work begins once we have an accepted contract . Although there is truth to the phrase, with contract negotiations, transaction details and timelines to attend to, a Realtor still has to do the work and marketing which brings the buyers and their agents.
There is really no secret to listing and selling a home. Most Realtors have access to the same marketing avenues. Some take advantage of and utilize more of the resources available, depending on the marketing dollars we allocate for our clients.
When a home is properly priced and represented in the market, we will have a buyer.
Get Your Home Exposed: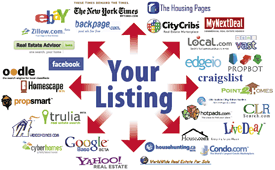 This represents some of the online marketing avenues I utilize with every home my team and I list. The Home to Indy Team is prepared to get your Indianapolis home SOLD! If you would like a consultation to see if our marketing plan is a fit for you, please contact us.