MiMi's been MeMe'd
Posted by Paula Henry on Tuesday, December 4, 2007 at 9:04 PM
By Paula Henry / December 4, 2007
3 Comments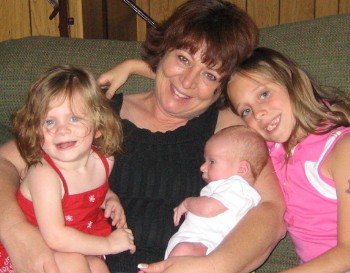 Scott Saghirian over at TopTechAgent, has meme'd me. I have gone 10 months without being meme'd. They have caught up to me; my luck has run out and now, I must disclose 5 things about myself.
*I am MiMi to these beautiful grandchildren and enjoy every minute with them. In April we will add another grandchild, a girl.
*I have been married to my husband, Don, for 28 years. He still calls me "His Bride". I am the lucky one.
*We have four adult children, who have made every moment in life a cherished one. Okay, maybe not every moment, but when they finally grow up – you forget all the trying times. Seriously!
*Besides Indiana, I have lived in Kentucky, New Jersey, Missouri, Arizona and California. Kentucky's my birthplace, Arizona is the most beautiful, California has the best weather and Indiana is HOME. *My life's motto is "Live Well, Laugh Often, Love Much"
Now, I must pass the honor to three more people. I choose:
Linda Barnett at Home Matters
Joanne Hanson at Mountain Living
Larry Cragun at Issaquah Undressed
Thanks for reading