Organization for the New Year
Posted by Paula Henry on Saturday, January 4, 2014 at 8:30 AM
By Paula Henry / January 4, 2014
Comment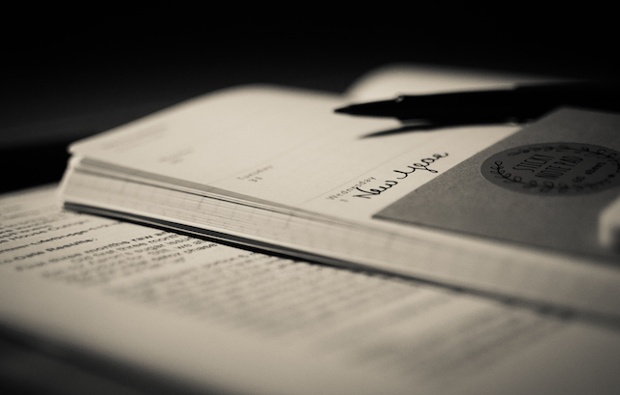 Christmas used to be the end of the Holiday season, for me. New Years, just a quiet flip of the calendar in comparison, never seemed like much of a contender until I reached adulthood and realized my love of planning, organization and fresh starts. These days, my house is the Holiday home, it's my doorstep people sing on and I love it, but by the time Christmas day comes, I'm ready for the new year. All the tinsel and shine of Christmas gets packed away on the 26th. Not because I'm a Scrooge, but more because I am as excited for our new years traditions as I am for our Christmas ones. To me, it means growth and forward motion and here's why.
For the last four years, my husband and I have done a thing I call "mapping". It's similar to resolutions, only more a picture than a list. This New Years Eve, we will go to the filing cabinet and dig out a neatly stapled packet of paper, labeled "2012 Year in Review" from its place next to years '11, '10 and '09. Its a thick packet, which documents all of the things we hoped for, in 2013. Not just a bullet list of resolutions and goals, but also the areas where we wanted to grow as people, what we wanted our family and finances to look like. Everything from the wishful to the practical.
We'll take our time, making check marks and stars next to the things we accomplished and the ones we failed at, too. We'll laugh at the unexpected outcomes and shake our heads at the blunders and holes, calling out why things went right and why they went wrong, like some kind of word game. Then we start a new packet. 2013 Year in Review. First, we will make a list of the things we hope to accomplish in the upcoming year. Sometimes there is rollover from the year before. Most times, actually. And that's okay, because life isn't built in a year and I think it would be sad if it was.
We write down everything notable that happened in the previous year, whether it was originally on last year's list or not. We make an honest evaluation of the areas where we grew and regressed as people and try to figure out what things to keep and which habits to discard. And we make a calendar where we mark certain milestones. "Do By" dates, so we can be sure we're making enough progress along the way in order to accomplish the goal.
At the end of the day, it's not just a list of to-do's but more a map and a compass for who we want to be and how we want our lives to look, like a proposal to ourselves. We're proposing a destination and all of the items in the document are the landmarks along the way which let us know we're getting there.
It's not always easy to take out last year's packet. Some years there are big failures to account for, which are hard to confront and be honest about. But therein lies the hope, because recognition means growth, change and a chance to try again. So each New Years, we take out our maps and our compass and we look at the stars, to figure out how we're doing on the way to our destination. It also forces us to take stock of what we're grateful for and to actually consider our lives. We drink coffee and eat the last of whatever Christmas cookie crumbs lurk in the house and we start every year this way.
This is all well and good, but I'm a practical person. Having a list, a packet or even just hope in your head for what you'd like your next year to be is fine, but it's impossible to get too far down the list without having a few concrete tools for keeping the day-to-day of life running smoothly. This is why I dedicate January to organizing life. The rhythms and routines that have maybe gotten a little out of whack in the chaos of the Holidays get put back into place and I set up systems to make sure the rest of the year runs smoothly as well. Here are some of my very favorite tools for January.
Getting Things Done By David Allen - This book shaped the way I approach tasks. I think most striking point it makes is that when you don't have a system for how you handle all of your to-do's, whether they're small one-off tasks or larger line items in a project, they will ping around in your head, making it hard to focus. That's why a lot of people make lists. However, if you don't have a system for handling list items, even those are a dead end toward getting rid of the distractions of the undone! If you only read one book in January, I'd give this one my vote
Meal Planners - Here are a couple of meal planners that work really well. For me, having meals planned in advance was a surprising savings in brain time. Knowing what I was going to make and that I already had the fixings on hand helped free me to focus on other things, while still knowing things were taken care of at home.
Calendars - I work best with a calendar. If I make an appointment, I keep it. One of the points in Getting Things Done is that sometimes you have to make appointments with yourself and so in the last few years I've started calendaring some of the bigger organization and home maintenance projects I'd like to tackle. Here are a couple of templates and lists that I have found useful for this. Whether you want to calendar year long spring cleaning type projects or when to do gutters and oil changes, I find these helpful.
Sample Declutter & Organize Calendar
What tools do you use to stay organized? Let us know in the comments section.