Perfect Indianapolis Date Night Ideas for Empty Nesters
Posted by Paula Henry on Sunday, February 22, 2015 at 10:30 AM
By Paula Henry / February 22, 2015
Comment
Your empty nest may come furnished with a variety of emotions: relief, sadness, joy, loneliness, excitement.
This time of life can feel quiet one moment, and extremely busy and fulfilling the next. You might be selling your home or moving to a different neighborhood. Perhaps you're traveling and visiting old friends. If you're a settled empty nester, you might be looking to reignite the passion with your spouse and spend more time together.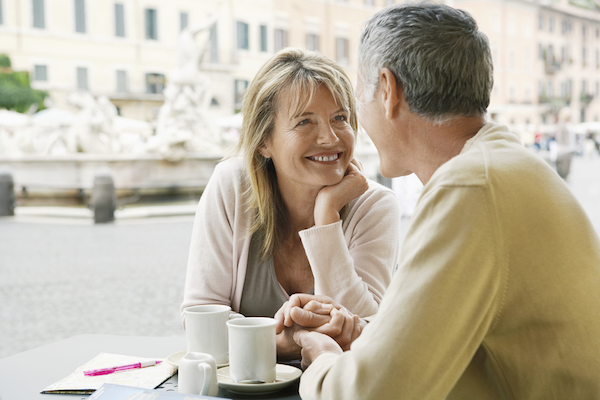 We've put together a few ideas for the perfect Indianapolis date night, just for you empty nesters. Whether you're planning a double date with old friends, or celebrating your 30th wedding anniversary, you'll find a great plan right here.
Brewery Tours for Beer Lovers
Enjoy a casual night out touring the town, making new friends, and sampling delicious local beer. A brewery tour would be the perfect double date to go out with old friends or even "getting to know you" friends. It does help if everyone at least enjoys beer, so make sure your date is on board.
Indy Brew Bus is a fun way to visit multiple craft breweries in Indianapolis. You can choose to tour breweries in Downtown Indianapolis, Broad Ripple, or the Southside. So first things first, book your tour.
Each brewery offers a wide variety of samples of their house, seasonal, and specialty beers. Each tour will visit four local breweries, so you can relax knowing you only have to hop on and off the bus as you whisk around Indianapolis enjoying the suds. Order a pint of your favorite or get a growler to go and they'll keep it cold for you on the bus! Each tour participant will receive a Personal Sampling Scorecard to help you keep track of the all the beers you like. The cost is $30 per person.
Depending on the area you tour, you may stop at breweries or bars that serve food. Some have food trucks hanging around outside the brewery. Or you may need to make arrangements to eat before or after the tour.
An Evening of Music
If you've never been to the Indianapolis Symphony Orchestra at Hilbert Circle Theatre, it's high time you take your special someone out for an evening of music!
First, purchase tickets ahead of time. Start with dinner and drinks at Tastings, a one-of-a-kind wine bar located a block away from the theatre. They have a variety of menu items, including artisanal cheese and charcuterie plates, flatbread pizzas, gourmet sandwiches and salads, bistro and tapas plates, and desserts.
Don't forget to take your concert ticket with you because on the back you'll find a discount to Tastings!
After you've enjoyed your meal and drinks, take a short walk to Hilbert Circle Theatre and enjoy the performance! The Indianapolis Symphony Orchestra performs 200 concerts each year to an audience of more than 500,000 people. Since 1994, the group has been heard in more than 250 radio markets in 41 states and has performed in three European musical capitals. Some tickets start at just $15.
Plan your musical evening here.
Cheer On Your Team
Whether you're a huge basketball fan or not, a night out enjoying a live game in the heart of the city is a recipe for a great date. Cheer on the NBA Pacers or the WNBA Fever at Bankers Life Fieldhouse. This retro-style fieldhouse has been recognized as the finest NBA basketball arena in the country by Sports Business Journal.
If basketball isn't your thing, the Fieldhouse also hosts events of all types year-round, from rodeos and concerts to parties and ice skating.
First, figure out your parking situation ahead of time.
Start the night at one of the nearby bars, like The Pub Indianapolis or Kilroys. If a loud bar isn't the right vibe, go for a classic steak and wine dinner at Prime 47. You can find a list of nearby bars and restaurants right here.
Since you're so close, after dinner you can walk over to the Fieldhouse and cheer on your team!
Plan your night on the town here.
A Very Special Day
If you're planning a special anniversary or you just want to celebrate the fact that the kids are finally out of the house, we have the perfect daytime date.
Start with a walk along the Canal in downtown Indy. You can find so many ways to get around this beautiful space - walking, biking, pedal boating, or even traveling by gondola.
The Canal Walk is part of the Indiana Central Canal, which was dug in the early 1800s, in an effort to facilitate interstate commerce. Today, the refurbished Canal Walk (stretching north through White River State Park to 11th Street) serves the downtown community as a beautiful waterside promenade.
If it's a chilly day, take a thermos of coffee or hot chocolate, or stop for a warm treat at a nearby cafe.
Next, it's time to museum hop! Two of the cities premier museums conveniently sit next door to the Canal and White River State Park.
The Eiteljorg Museum of American Indians and Western Art is the largest museum of its type east of the Mississippi. This beautiful museum has traditional art as well as an impressive contemporary collection.
The Indiana State Museum showcases science, art, and culture in celebration of Indiana's history.
If a museum visit isn't what you're looking for, catch a matinée! You can also find the IMAX Theater at the Indiana State Museum, with its six-story screen that plays 3D IMAX films as well as contemporary Hollywood films.
Finally, to top off the festivities, take your special date out for a romantic dinner.
Reserve a table at the nationally acclaimed St. Elmo Steakhouse. You must order their famous shrimp cocktail.
A more rustic, but just as amazingly delicious, option is Bluebeard in nearby Foutain Square. They were rated Best New Restaurant by the James Beard Foundation in 2013. Order the Moscow Mule and their homemade pickles to start!
Wherever you go, we hope your date night is made even sweeter by knowing that you have done your duty as parents, your young have fledged, and finally you can reap the rewards of your hard work. Enjoy yourselves, you empty nesters.
And tell us about your favorite Indianapolis date night spots in the comments below!