Sacramento Real Estate and the Art of Selling a Home
Posted by Paula Henry on Tuesday, May 17, 2011 at 2:58 PM
By Paula Henry / May 17, 2011
4 Comments
This week, our guest Realtor is Gena Riede from Sacramento, California. While Gena is searching for the answers to origins of this unique sculpture in Sacramento, she has reminded me, I have not posted my May photo for the photo contest. You can look for it by day's end at HomeToIndy.com. Gena also reminds us homes that are in show condition and priced correctly are selling. That's a universal real estate truth.
I just love what Paula Henry, your Indianapolis Realtor® has incorporated on Home to Indy with the photo contest for all the Indianapolis readers. This is a fun part of Indianapolis homes, neighborhoods and parks. Brilliant, Paula! It would be a great idea in
Sacramento
which is where I sell homes.
I was thinking about a sculpture in the middle of the street (below) that I have found very interesting but have never been able to find out the name, origin or reason why it was placed in such an odd spot in Downtown Sacramento. Now, after looking at this wonderful contest Paula has for her readers, I see there is a unique way I may be able to find the answer to this art work in Sacramento.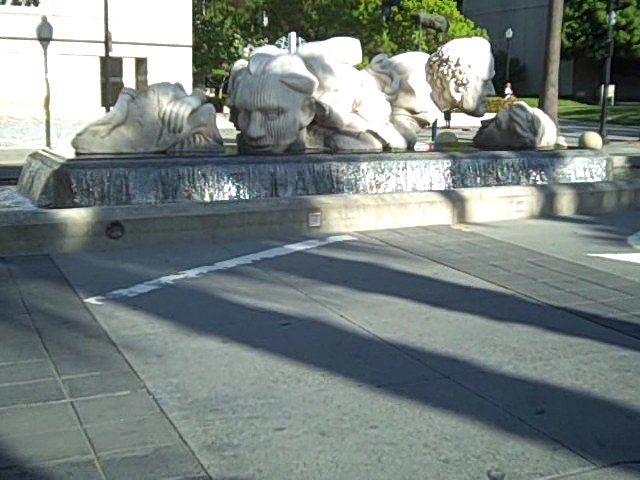 We were hard hit by the recession in Sacramento. What I have been seeing in the
Sacramento real estate
market is typical of what I am sure you see in Indianapolis real estate, a home for sale that is show quality and priced appropriately at value receives multiple offers and does not linger on the market for sale. In order for this to happen there needs to be cooperation from the home seller and the Realtor® must be experienced and have an excellent presence on the Internet.
Paula Henry has just those qualifications which makes her my Realtor® of choice for all my Sacramento home buyers relocating to the Indianapolis area. As a Sacramento Realtor®, I'm very choosy about who I send my home buyers to. And might I say... there are some fabulous Indianapolis homes for sale right now.