Saturdays at The Indianapolis Library
Posted by Paula Henry on Sunday, July 31, 2011 at 8:53 PM
By Paula Henry / July 31, 2011
Comment
Beat the heat and lose yourself in a book at the Central Library, One Library Square, 40 E. St. Clair St. The library is open from 9-5 on Saturdays, with tours at 2:00 p.m.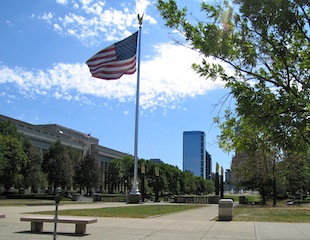 The original library, housed in the Cret Building on St. Clair Street, was completed in 1917 and built on land donated by James Whitcomb Riley.
The building was named after designer Paul Cret and was among the finest library structures in the country, built of Indiana limestone, Vermont marble, walnut and white oak.
Sweeping staircases, bronze chandeliers, carved stone cornices and Greek columns are among the many architectural features to behold.
The library was expanded in the 2007 to meet the needs of the community.
For more information, visit www.imcpl.org/central/.