Simple Tricks for Sprucing Up Your Home
Posted by Paula Henry on Tuesday, March 3, 2015 at 6:00 AM
By Paula Henry / March 3, 2015
Comment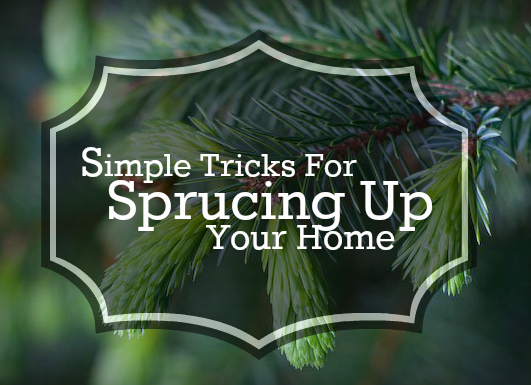 Five Easy Ways to Refresh Your Home
It's never easy to plan for home improvements, it usually takes a lot of time and a lot more money. Various seemingly minor repairs can sky-rocket a bill pretty quickly. For the savvy homeowner, there are still plenty of ways to make big changes in your home without having to blow up your wallet. Small improvements in and around the house can make a huge impact, improve the curb appeal and raise the value of your home. So if you're looking for a quick fix that will leave a lasting impression, here are a number of ways you can give your house an extreme makeover on a less than extreme budget. Here are five of the best home improvement tips you can try to make your house stand out.
Designer Doorway
One of the first things your guests will notice about your house is the door, so make a great first impression. You don't have to get a completely new door, but a new coat of paint on an old door can do wonders to make it look brand new. Think of updating outdoor lighting fixtures, or adding additional inexpensive outdoor lighting to brighten porches and entryways.
Green Thumb
No matter how prim and proper your house is, you can't go far with an unruly garden. Properly trimming your garden or adding new plants can update a drab exterior. Garden maintenance is as simple as watering your plants, mowing the grass, and trimming the bushes. Consult a local nursery for plants that will thrive well on your property and still be low maintenance. Getting your garden in top shape can give you a great place to relax and create an inviting outdoor living space. Get the entire family involved as a great bonding experience and a way to learn useful skills.
Use Mulch
Mulch is an excellent way to nurture your garden. It can provide fertilizer for your plants while at the same time keeping moisture in the soil during the hot summer months. Try consulting a nursery for advice on using mulch, or order online from The Mulch Monkey to get the best prices from mulch distributors around Indianapolis.
Make Room
A simple yet much neglected quick fix is simply getting rid of clutter. Newer clothes and books can be sold for cash, and a yard sale can bring in some funds for other items. Anything you can't sell can be donated to charity, the value of which is often tax deductible. The money from all that stuff you don't use anyway can be used to purchase paint and supplies to further spruce up your living space.
General Upkeep
It's the small things that really matter in the end. Continuously repairing things around the house that break down is a great way to keep the house looking its best. Fixing squeaky doors and floorboards, replacing old wall paper or simply repainting damaged walls or decorations can go a long way to keeping your home a place you love.