Summer's Best Refresher: Must Try Drink Recipes
Posted by Paula Henry on Tuesday, August 5, 2014 at 10:00 AM
By Paula Henry / August 5, 2014
Comment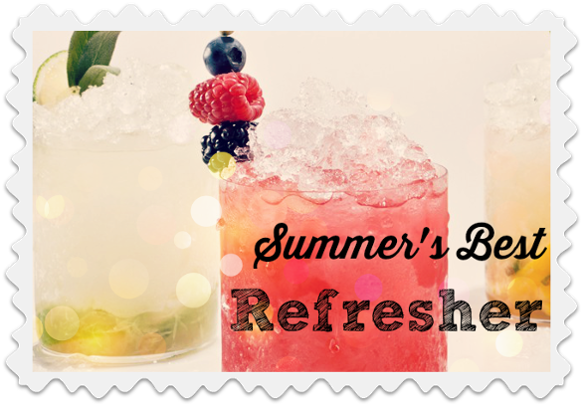 Summer is here, and it's hot — so what do we need? Something cold to drink. Here are some of our favorite summer drink recipes. Some are fast and classic, some are quite luxurious and need a little bit of patience. But they'll all make you feel refreshed and ready to enjoy every second of your Summer. Pitchers ready? Here we go!


JUNE BUG (no alcohol):
3 cups ginger ale
4 tablespoons grenadine
4 tablespoons orange juice
3 scoops orange sherbet
Simply mix together all four ingredients in a blender. Pour into ice-filled cocktail glasses. Want alcohol? Add white rum!


THE WATERMELON MARGARITA
1 and 1/2 oz Don Julio Blanco Tequila
1/2 oz lime juice
1/4 oz agave syrup
1 slice watermelon
pre-frozen martini glass
Muddle watermelon and agave syrup. Add the rest of the ingredients. Shake well. Double-strain into waiting glasses. Use a watermelon slice as the proverbial umbrella!


CLASSIC MOJITO
12 whole mint leaves, plus a few extra for garnish
1 1/4 oz Captain Morgan Original Spiced Rum
1 tsps sugar
1/2 oz lime juice
1.oz soda water
With the mint leaves at the bottom as the bed of the drink, muddle the crushed ice, rum, sugar and lime juice. When you're done, add the soda water and plop more mint leaves on top!


THE BRAMBLE SMASH
4 each of blackberries, blueberries and raspberries
2 half-inch thick wedges of lemon 2 half inch thick wedges of lime
1 tbsp simple syrup
16 oz cocktail shaker
1/4 cup vodka or for a non-alcoholic version, club soda crushed ice
Muddle the berries and citrus in the shaker. Add the simple syrup and shake four to five times. Add the vodka. Strain into an old-fashioned glass. Plop crushed ice in there to the halfway point. Stir, and then top with more ice. See? A snow cone! Garnish with berries!
(Tip:If you don't have simple syrup on hand and want to make it at home it's super...well...simple. Syrup for drinks and cocktails has 1 to 1 ratio of water and sugar. Boil water, add sugar. Heat until all granules are melted)


The Cantaloupe-Basil AGUA FRESCA
3.5 lb cantaloupe, removed chopped
3/4 c lemon Juice
3/4 c basil leaves
2c cold water
Chop cantaloupe up and puree slices in a blender until smooth.
Set a fine-mesh sieve over a large bowl. Add cheesecloth to this sieve. Strain the puree into the bowl. Repeat this with new cheesecloth in a pitcher until you have enough juice for 5 cups.
Add 3/4 cup lemon juice, 3/4 cup basil leaves and 2 cups of cold water to the pitcher. Steep this for about two hours. Serve your agua fresca in ice-filled glasses. Aaahhh.


SPARKLING PEACH SANGRIA
5 peaches
6 sprigs of fresh thyme
1 bottle of moscato wine (Or grape juice for a non-alcoholic version)
1 bottle of champagne, or sparkling wine (for the virgin version use non-alcoholic sparkling grape juice)
Remove the peach pits, cut into wedges, and just place the peaches, thyme and moscato in a large pitcher. Stir and then leave it for at least four hours to let the flavors blend and infuse. Overnight is best. Pour in the sparkling wine or champagne into the pitcher just when you're about to serve and stir. Pour your peach and thyme sangria over ice and garnish with fresh thyme and peaches.


Have fun playing with these recipes and beat the heat with these refreshing ideas for wonderful drinks!