The 13 most romantic places in Indianapolis to propose to your girlfriend
Posted by Paula Henry on Sunday, September 29, 2013 at 3:05 PM
By Paula Henry / September 29, 2013
Comment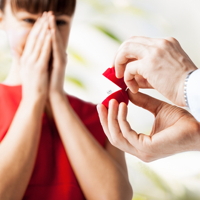 This one is for the gentlemen. Ladies, you can skip this... unless of course you want to forward this to your man as a hint (just saying).
Proposing is one of the most exciting and nerve-racking things you will ever do. You've chosen your special someone to spend the rest of your life with, you have the ring, and how you just need to propose. What to do next!
Well, you're in luck because Indianapolis just happens to have quite a few great romantic places to pop the question. The right setting can make your special proposal a memorable experience and it's important to do some research to find the right location for you and your sweetie.
Here are some ideas for choosing the right place to propose to your special someone in Indianapolis.
1. Central Canal
The canal downtown is an extremely romantic spot, especially at night. Something about being by the water just adds some ambiance. There are bridges, turns, and walkways all along the path, giving you plenty of options for the perfect moment. My advice? In the middle of the bridge next to the State Museum. Beautiful spot.
2. Oldfields Gardens at the Indianapolis Museum of Art
The IMA is a beatiful place and the Oldfields Gardens next to the Lilly House are absolutely lovely. Filled with flowers and greenery, these gardens are a great spot for a sunset proposal following a leisurely picnic.
3. Skyline Club
If a fancy restaurant is more your style, try the Skyline Club downtown. This restaurant it located on the 36th floor of the One America building and offers a stunning few of downtown Indianapolis. Getting down on one knee looks even better against the Indy skyline at sunset. Trust me. As a bonus, you can also book your wedding reception here to relive the memories!
4. The Melting Pot
Another great restaurant in Indy that is about as romantic as you can get is the Melting Pot. This place has it all: mood lighting, fondue, cozy seating, private booths, and lots of wine. It's basically impossible not to propose here.
5. Indianapolis Art Center
The Indianapolis Art Center has some lovely nature paths and gardens surrounding it and makes a great spot for a more private proposal. Look for the private spot next to the water as you veer to the right along the path.
6. Holcomb Gardens
Holcomb Gardens at Butler University makes for a beautiful and secluded spot to propose. The wooded area is private and quiet and is one of the most serene nature spots in Indy.

7. Indiana Roof Ballroom
If a night on the town is more your scene, try popping the question during the Big Band Series at the Indiana Roof Ballroom. Make a party of it by gathering your closest friends and head out for a night of dancing. This dance floor is huge and will really create a dramatic atmosphere for a flashy public proposal. Need some ballroom dance lessons to get ready? Stop in at Riolo Dance Studio a few times to learn some moves (it will impress her... seriously).
8. Hot air balloon
It's hard to beat a marriage proposal at 3,000 feet. If you're feeling daring, call up Tony Sandlin at Midwest Balloon Rides and schedule your special flight for an extremely memorable proposal. Or stay a little closer to home and try the Conner Prairie Balloon.
9. IMA Movie Night
If you and your sweetie are movie buffs, check out the Summer Nights Film Series at the Indianapolis Museum of Art. Pick a night that a classic love story is playing, sit in the front row, and propose at the end silhouetted against the screen. Just be sure to wait for the credits so you don't annoy the audience!
10. Monument Circle
Who can forget Monument Circle Downtown. This offers a semi-private experience but a beautiful and dramatic setting. Hint: December is a great time to propose here because all the Christmas lights are out. It's gorgeous!
11. Fort Harrison State Park
Located on the East side of Indianapolis, Fort Harrison State Park is beatutiful and serene. You've got options here, such as a canoe trip during the Summer, a simple garden walk during the Spring, or breathtaking Fall colors later in the year.
12. White River Gardens
Consider White River Gardens if you want to stay downtown near the skyline but would like to be close to nature, as well. This spot boasts hundreds of varieties of plants and beautifully lanscaped paths. Very romantic!
13. SpaceQuest Planetarium
If you want to tap into our inner child or explorer, head on over to the Children's Museum and pop the question at the SpaceQuest Planetarium. Have fun proposing under the stars and then go play with all the cool stuff in the museum. This is also a great location if one of both of you have children and want to make them a part of the proposal. How fun is that?
Asking your sweetheart to marry you is a big decision and you want everything to be perfect when you propose. However, don't over-think it. Just pick a romantic spot, speak from the heart, and she'll be swept off her feet.
Where in Indianapois did you propose to your sweetie? Post it in the comments below!