The Best in Home Improvement Apps
Posted by Paula Henry on Tuesday, October 28, 2014 at 10:30 AM
By Paula Henry / October 28, 2014
Comment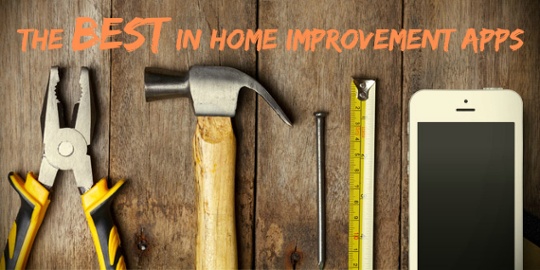 There is a category of task which I have imperially dubbed "household development." These tasks include all things related to home improvement and organization, and they are a category of tasks which are, at least for me, never ending. And because there always seems to be something new to do, I'm on board with using any tool I can to simplify my role as chief household development officer, a title I share with anyone who finds themselves regularly in charge of home improvement projects, decorating, or organization.
Here are some fun and fancy tech tools to help keep operations running smoothly for my fellow CHDOs!
HomeRoutines – An iOS app specifically for creating customizable routines for keeping up with specific zones in the home. This app allows you to priorities by order of importance. (Rated 4 stars)

TaskRabbit – Too many tasks, not enough hours? TaskRabbit matches people looking to grow an extra set of hands with people looking to lend the two they've got! So, whether it's a daily dog walker for while you're at work, or someone to do the laundry, find the right person for your task and ease your load a bit! You can manage your tasks and bids on services as well as review candidates ratings and testimonials. (Rated 4 stars)

Dream Home – This android app is the interior designer's Pinterest. Featuring ideas, design, and decor, never be without a world of ideas and inspiration at your finger tips, ready for browsing. Submissions by renowned designers who have contributed their ideas about meticulous designs, you are just a browse away from making your dream house possible. (Rated 4 stars)

iHandy Carpenter – Because you might not have a plumb bob handy when you need one. Whether you're a carpenter all the time or an occasional projector, iHandy is your go-to all in one level, plumb bob, ruler, and protractor. You'll never be unequipped for your DIY tasks. (Rated 4 stars)

Palettes – Trying to decide on which paint? Conflicted between the Atlantic Sand Tan or the Pacific Sand Tan? Well, this app will help you choose and keep track of your palettes. Additional features include the ability to match up colors that you see on the internet or a picture from a magazine. (Rated 2 stars)
Bonus; Ever have a picture for your home that you really want to be the centerpiece of the room, but aren't exactly sure which colors to pull out as your room's palate? This is your solution. You're welcome.
Home Improvement and Remodel – Here's an app to help you figure out what contractor to use. With rating features, as well as a social aspect which allows you to see which providers friends have used and liked, Home Improvement and Remodel allows you to photograph or describe work you want done and within 24 hours you'll be provided with the top three bids from highly-rated professionals in your area. With a selection of contractors in fields like landscaping, kitchen and bath, plumbing and more, this is a great tool the next time you need an expert! (Rated 4.7 stars)

Craftsman Tools and DIY App – Are you a DIY junkie? Well, if you could watch This Old House every day of the week, this app is for you. With podcasts, project ideas, articles about best practices and, of course, bargains on tools, this app will keep your project-o-meter on full. (Rated 3.5 stars)

Drywall Calculator – A web-based app for calculating the square feet of a room. Great for knowing how much drywall you'll need, calculating gallons of paint, and ...much more. (Rated 3.5 stars)
Homelogic Mobile Control – This app for savvy folks who want to control most of their home systems via their smart phone. It gives you the power to adjust your lighting system, climate, DVR, audio, home alarm devices and security locks. Corresponds with base units into which these systems are connected, the ultimate for a kickin' pad! (Rated 4 stars)

HomeProjects by HomeZada - If there was one app to manage your whole home, this would probably be it. With HomeProjects you can manage your home inventory, warranties and receipts, track maintenance records, use the automated home maintenance scheduler (with built in reminders, alerts and calendar integration). It also allows you a single place to track any home improvement projects you do, so you can manage the pace, budget and events for completion. Additional features include household budgets, an emergency contacts keeper and more. There is both a free and paid version of this app. (Rated 4 stars)

Do you have Home Improvement Apps that you love? Share with us in the comments below!