Top 5 Free 'Must See' Events in Indianapolis
Posted by Paula Henry on Sunday, November 17, 2013 at 9:39 AM
By Paula Henry / November 17, 2013
Comment
There really are so many fun, free things to do in Indianapolis but it is especially true around the holidays. We've compiled a short list of the top 5 free events in Indianapolis that you don't want to miss.
1. Children's Museum of Indianapolis - Target Free Family Night
Sponsored generously by Target, The Children's Museum of Indianapolis opens free of charge from 4 to 8 p.m. once per month. The museum has recently remodeled Playscape, the area for kids under 5. It's a stunning interactive playland for little ones. Jolly Days at the museum are just around the corner. The next Target Free Family Night is December 5. From the website: "Learn about winter traditions from all over the world, the people who celebrate them, and the toys that help to make them special."
Another free event coming up is Santa's Big Arrival: NOV. 29, 8:30-10 A.M.
"Ladies and gentlemen, Santa and elves ... start your engines! Santa is arriving at the museum in a Dallara IndyCar! A special police and elf escort will lead the way for his racing sleigh when it arrives the day after Thanksgiving. Then join The Chorduroys for a special sing-along to welcome Santa before he takes his annual trip down the Yule Slide. The rest of the museum opens at 10 a.m."
8:30–10 a.m.
FREE youth admission with paid adult when you arrive before 10 a.m.

Museum Store open—30% off all merchandise

Special activities, including holiday face painting and Jolly Days photo booth
2. Story Time at Indy Reads Books
Indy Reads Books is an independent book store that hosts a free Kid's Story Time on Saturdays at 11:30 am. Stop in for story time, donate some books, and get a great deal on used children's books while you're there. All donated children's books are just $1, so it's a great way to build your personal storybook library at home.

3. Christmas at Lilly House 2013
Plan a trip to the Indianapolis Museum of Art for Christmas at Lilly House. The event will be the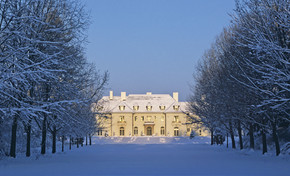 culmination of the year's observance of the 100th anniversary of Oldfields. Holiday decor for the house will take inspiration from ideas and trends current during the second decade of the 20thcentury, when the estate was constructed. Although commercialism and mass-produced decorations were certainly part of the scene at this time, most American homes were not as lavishly decorated as they would become later in the century, and older traditions of using natural materials and blooming plants still held strong. Greenery cut and shipped from southern woodlands, such as palms and magnolia, augmented local materials and greenhouse-grown flowers to provide a wide variety of decorative choices. Christmas at Lilly House 2013 will evoke these early 20th-century traditions, providing a glimpse at how holidays looked when Oldfields was new.
November 16, 2013 - January 5, 2014. Free Admission.
4. Circle of Lights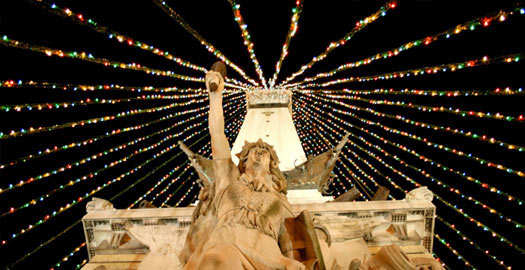 For 51 years, thousands of spectators have gathered Downtown at Monument Circle to see the most spectacular holiday display illuminate. Generations of families are drawn to this beautiful centerpiece each year. Indy's most beloved holiday tradition features 4,784 lights and 52 garland strands which are used to create the 242-foot display. The magic continues with toy soldiers and peppermint sticks encircling the Monument and many more lights to enjoy. This year's display, presented by the Contractors of Quality Connection and Electrical Workers of IBEW 481, features 26 giant toy soldiers and sailors and 26 peppermint sticks surrounding the Circle, as well as 56,700 twinkle lights in the trees illuminating the area's walkways.
The actual light-up will occur at approximately 7:45 p.m., Friday, Nov. 29. Fireworks will follow. Live entertainment begins at 6 p.m. with the 7-8 p.m. portion televised.
Lights will be displayed from November 29 through January 6, 2014.
5. See Indianapolis From the Tallest Buildings
While you're cruising around downtown, sight-seeing and window shopping, take an elevator ride to the top of one of these buildings to see the city from above: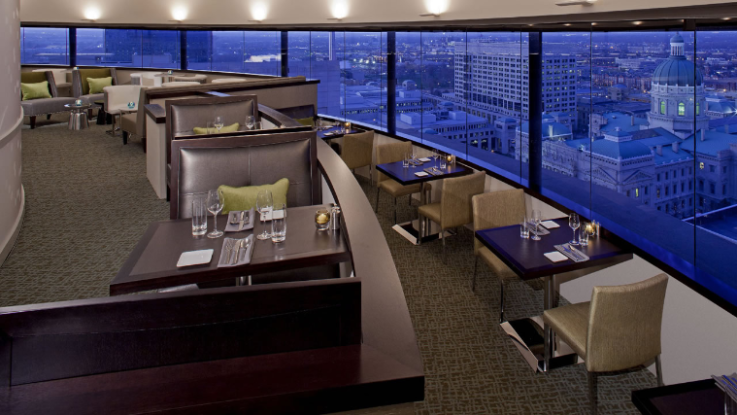 (View from The Eagle's Nest. Image credit: indianapolis.hyatt.com)
What are your favorite free things to do in Indianapolis? Share them in the comments below!