Top Questions to Ask When Interviewing a Real Estate Agent
Posted by Paula Henry on Wednesday, March 7, 2012 at 3:23 AM
By Paula Henry / March 7, 2012
7 Comments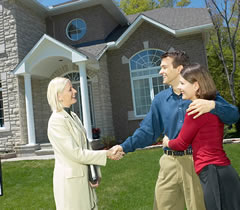 Hiring the right agent is an essential part of getting your home sold. Yet, finding the right agent can be a difficult process, particularly if you have never worked with a real estate agent in the past. Whether dealing with Austin real estate or a home in Fishers, asking the right questions is essential to ensure you get the right agent to meet your needs. To that end, here is a look at some of the most important questions you should ask when interviewing potential real estate agents.
How Many Years Have You Worked as a Real Estate Agent?
While a new real estate agent could potentially serve you very well, you will generally enjoy better results if you hire someone who has several years of experience. Even better, the agent should have experience buying and selling homes in the neighborhood where your home is located or where you are interested in buying. This way, you can be sure the agent will have the necessary connections and knowledge to reach your target audience or to help you find the home that is best for you. If the agent is fairly new and you really feel a connection with that person, ask how long the broker supervising the agent has been in business.
Do You Work as a Real Estate Agent on a Part-Time or Full-Time Basis?
Believe it or not, some real estate agents do the job on a part-time basis as a side job. Unfortunately, those people who view real estate as a source of extra income typically do not have the proper connections in place to help you find the best deal or get your home sold quickly and at a reasonable price. While there are no guarantees that a full-time agent will do a great job, those who are dedicated to real estate on a full-time basis are more likely to get the results you want.
What Makes You Better Than Your Competitor?
An experienced real estate agent will be able to intelligently articulate what sets him apart from the competition. Perhaps the agent offers an innovative marketing strategy, offers a network of professionals to help get your home ready for sale or offers special services for individuals with disabilities. The list of possibilities is endless. By asking this question, you can get a better idea of the types of services the agent has to offer in order to meet your unique needs.
How Can I Reach You?
While some real estate agents will only respond to phone calls between certain times or will have a team member handle all calls, other will make themselves far more accessible. If you want someone who is available throughout the day via cell phone or other methods of communication, be sure to ask about this upfront.
What Strategies will You Use to Sell My Home or to Find the Perfect Home for Me?
The agent should be able to provide you with a clear plan for getting your home sold or for finding a home for you. Listen carefully to this plan and ask for clarification whenever necessary. This way, you will be better able to determine if the agent's strategies are appropriate for you and your needs.
About The Author - Eric Bramlett is broker and co-owner of One Source Realty, specializing in helping clients in Steiner Ranch homes for sale and Downtown Austin condos.
Related Articles:
#1 Tip for Marketing Your Home to Sell
Simple Repairs to Sell Your Home Faster