Wanna Play? A Beginner's Guide to GenCon
Posted by Paula Henry on Thursday, July 31, 2014 at 10:00 AM
By Paula Henry / July 31, 2014
Comment
Every August, the most serious game players across the nation descend on downtown Indianapolis for their national convention: GenCon. If you're new to the area, you're in for a real treat. Not only is it great for people watching, it's THE place to be if you're a gamer (board game or otherwise). For those who may not be familiar with this phenomenon, we've put together this beginner's guide to fill you in on everything you need to know.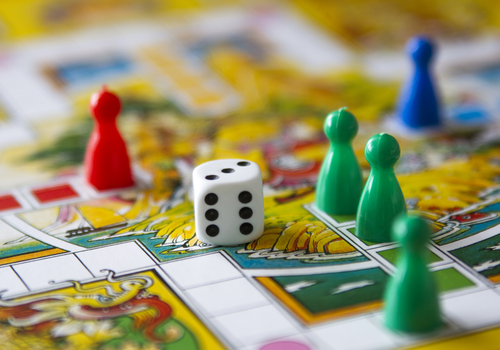 What does GenCon stand for, anyway?
GenCon is short for the Geneva Convention. That's because it started out in Lake Geneva, Wisconsin, years ago. It's also a play on words since "Geneva Conventions" are a set of important international treaties regarding war, which is the subject for many of the games played. The convention has been held in a number of locations over the years but came to Indianapolis in 2003. Their current contract with the Convention Center runs through 2020.
When is GenCon?
This year, it's August 14-17, 2014.
How much does it cost?
Well, that depends. If you purchase the 4-day pass, then you get the best deal at $80. You can purchase single day badges for Thursday, Friday, or Saturday for $50. If you want to go early, you can get a Trade Day pass for Wednesday (in addition to the 4-day badge) for $150. The Family Fun Package is what we love to recommend to new people. It's a badge for 4 people to attend on Sunday for only $30. This is a great way to experience some of the fun if you've never been before.
Some games require an additional fee to play (tournaments with prizes will obviously cost a bit more to enter), but they don't accept cash. You have to purchase tickets through customer service on the website. (Anything you purchase online will be available for pickup at the event.)
Who goes to GenCon?
LOTS of people go to GenCon. In fact, it's the longest-running, best-attended gaming convention in the world. 49,000 attendees set a new record for the event in 2013. Some go for the games; some go for the people watching; some go to support their spouses.
Do I have to dress up?
Certainly not. A lot of people do, but that doesn't mean that you have to. If you feel comfortable, then go for it! If not, then don't. You'll see everything from gaming characters to princesses to Darth Vader costumes to comic book characters and everything in between. It's all welcome at GenCon!
What happens at GenCon?
Lots of game playing - everything from board games to card games to magic games to video games to strategy games to miniature games. You name it, they've got it! Some games are easy to learn and play, while others require hours of tutorials before you begin.

Game companies unveil new games at the event each year, so you can see (and test out) what's new on the market. There is a film festival; authors will be interviewed; seminars and panels will discuss the latest hot topics; artists will have their work on display.
The vendor exhibit hall is the largest area there. Here, game companies have set up booths to demo (and sell) their products. There are other games that require you to sign up to play. (Be sure to check these out before you go so that you can snag a spot if you're really interested.)
There are "Spouse Activities" for those who came to support their spouse but may not be interested in games. It offers alternatives such as: zumba, pilates, learning to knit, taking a brewery tour, etc.
What about food?
Food is not included in the price of your admission. The Convention Center has concession stands open, but there are lots of restaurants within walking distance. Some even offer discounts for GenCon attendees!
Where should I park?
Wherever you can get a spot, really. If you're staying a hotel downtown, they should offer parking. Or you can get suggestions through the Convention Center's site here.
What advice would a veteran give someone who has never been to GenCon before?
We asked GenCon lover Pat for his advice. Here's what he said, "Don't be afraid to sit down at a table with a game you've never played before. GenCon is a great place to try new things," he said. "It can be overwhelming, but there really is something for everyone."
Pat's wife, Allison, loves to go to GenCon to support her husband. She shared, "I go to show my husband that I support his hobby. But I enjoy playing the games." She added some encouragement, "Everyone at GenCon is very welcoming. And the people watching is amazing!"
We happen to agree with Pat. Whether you're into gaming or not, there's something for everyone at GenCon. Check out it, and let us know what you think!