What You Need to Know About Symphony on the Prairie
Posted by Paula Henry on Sunday, June 15, 2014 at 11:00 AM
By Paula Henry / June 15, 2014
Comment
Marsh's Symphony on the Prairie is one of our favorite perks of living in Indianapolis. Not only do you get to hear the sounds of the Indianapolis Symphony Orchestra, you get to do so while enjoying the great outdoors at Conner Prairie in Fishers. What's not to love?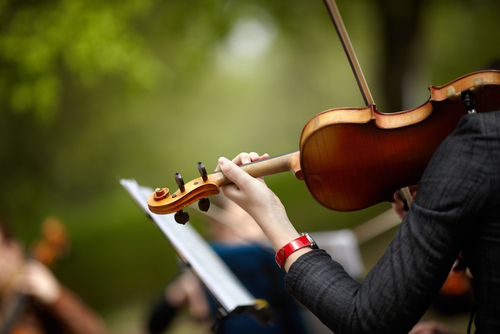 What is Conner Prairie, anyway?
In case you've just moved to the area (or will be soon), you may not have heard of Conner Prairie. It's an outdoor, living history musuem that's on 200 beautiful acres in Fishers. From April to October, you can visit historic areas. Think of it like going back in time and being able to interact with the people of the pioneer days. You can get up close and personal with the livestock in the Animal Encounters Barn or throw tomahawks at the Lenape Indian Camp. It's an awesome way to step back in time.
What does Conner Prairie have to do with the Symphony?
Every summer, Conner Prairie hosts the Indianapolis Symphony Orchestra for evening performances in their ampitheater. Each year, the Indianapolis Symphony Orchestra performs a variety of fun music from many genres and generations of music - including classical, rock, pop, folk, big band, disco and jazz. This year, you can choose from rockin' options including music from the Beatles and the Beach Boys or something more traditional like Gershwin's Rhapsody in Blue. If you're especially patriotic, you can enjoy the Star Spangled Symphony which includes a fireworks display at the finish (weather permitting, of course).
What you need to know
Value Packs are available, but single tickets prices are:
Adult $24 in advance, $28 at the gate
Children (2-12) $14 in advance, $13 at the gate
Premium Concerts are a bit more (see website for details)
Tickets are on sale now and can be purchased at the Hilbert Circle Theatre box office or at your local Marsh Supermarkets. (If you use your Marsh Fresh Idea card, you can get $1 off!)
The concerts start at 8:00 pm, but the gates open at 6:00 pm if you want to snag a good parking spot and spots for the performance. (If you want to come early to take in some of the amazing history at Conner Prairie, that's an additional admission fee.) For an additional $20, you can purchase premium parking that gets you a quick commute to your seats and a fast exit after the show. (Note: these must be purchased in advance.)
What you need to bring
Umbrellas (just in case)
Blankets for chilly nights (or an extra fleece)
Picnic basket filled with food! (Some people bring mini-crock pots of dips and meatballs, while others keep it simple with sandwiches and snack foods.)
Hand sanitizer or wipes (to clean up after you eat)
Napkins or paper towels (and lots of 'em!)
Tide pen (You never know when you might need it!)
Drinks (Alcohol is permitted. If you plan on bringing wine, don't forget the opener!)
Comfortable lawn chairs
Bug spray
Dancing shoes (Regardless of the genre of music, you can usually find some people up front getting their groove on!)
What NOT to bring
Cameras and recording devices (They are prohibited.)
Pets (Sorry, Lassie has to stay home.)
Grills
Fireworks (though you might see some after the show)
Tiki torches
Cigarettes (Conner Prairie is a smoke-free facility.)
Bring your family to a fun-filled summer evening where you can lounge on a blanket and enjoy a picnic with a larger-than-life soundtrack!