Why Live in Indianapolis
Posted by Paula Henry on Sunday, September 22, 2013 at 10:00 AM
By Paula Henry / September 22, 2013
Comment
Why Live in Indianapolis
So, you're thinking about moving to Indianapolis. Or you're already here, and you'd like to learn more about your hometown.
There are plenty of places to get city data about Indianapolis and lists of sites to see. But what does it feel like to live here? What can you expect of our people, our places, our "vibe"? They're big questions, and in the coming months, I'll be blogging my take on the answers.
I was lucky. After almost ten years in Austin, Texas, I had the freedom to move nearly anywhere. I knew I wanted to be closer to my family (they're in Illinois), but that still left me a lot of options for relocating. I spent a year researching, then chose Indianapolis…and I'm totally delighted that I did! I'm passionate about my adopted city, and I'm excited to share it with you here.
So why Indianapolis? Some highlights: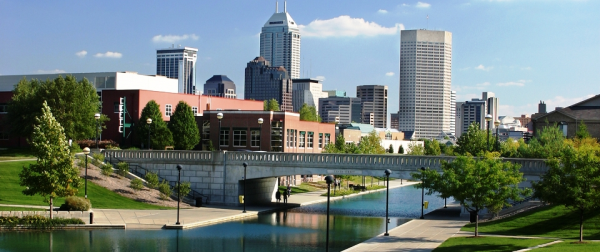 1. Great neighborhoods.
Indy is a city of neighborhoods, each with its own distinctive character. Whether you want a sprawling suburb with big yards for kids and dogs or a cozy bungalow in an historic district, there's a place for you here. Many locals are fiercely loyal to their neighborhood—ask anyone where they're from and you're likely to hear a neighborhood, not Indianapolis as a whole: "We're in Trader's Point," or, "I live in Lockerbie." On this blog, I'll interview residents and profile many of these neighborhoods to give you a feel for the flavor of each.
3. Big city amenities, small city accessibility.
My highly subjective criteria for what makes a "big city"? We have a stellar arts scene. There's a Container Store and two Whole Foods (Yes, I checked on both before I moved here!) And last year we hosted a little event called the Super Bowl.....But Indy's still remarkably easy to navigate, both geographically and emotionally. Most folks get around by car rather than by public transportation. The pace of life here is slower than Chicago or New York, and the city prides itself on its "Hoosier Hospitality." I remember calling a local government office for the first time and being amazed to hear a real person answer, not a voicemail system. That small example is indicative of a common nickname, "Easy Indy."
3. It's affordable.
The cost of living here is ridiculously cheap compared to other cities. I'm a school employee, so you know my salary's not huge. But I own a home in my neighborhood of choice. I'm not wealthy, but in Indianapolis I live comfortably. I'm writing this from my front porch swing. Move here, and you, too, can have a porch swing.
4. You can contribute.
Urban development expert Peter Kageyama has an unorthodox test of how easy it is to get involved in your city: can you run for mayor? In his book For the Love of Cities he writes:
I often like to ask whether this is the type of community that I could move to, get engaged, and in five or ten years run for mayor. That seems to be a pretty good barometer. Cities that are too small and too insular, where you have to be born there and even after 20 years you are still a newcomer, are not going to let an "outside" become mayor. Likewise cities that are too big don't allow you to climb the corridors of power that quickly. Try to go to NYC or Chicago and run for mayor.
You don't have to run for mayor, but in Indianapolis you can get involved. There's a sense of openness here, a sense that we're making this city together. You'll find likeminded groups of every kind, from neighborhood revitalization to school improvement, from social justice to political reform. Here you have a chance to make a difference, to be what Kageyama calls a "co-creator," one of many individuals who make Indy the place we want to call home.
Welcome to Indianapolis. It's a great place to live. I look forward to sharing it with you.
About the Author: Becky Schlomann is proud to call Indianapolis home. An arts administrator and educator by day, she spends her free time exploring the city, visiting family, volunteering for her neighborhood development nonprofit, and riding her new bicycle.