Wisdom From a Three Year Old
Posted by Paula Henry on Monday, December 24, 2007 at 11:47 AM
By Paula Henry / December 24, 2007
4 Comments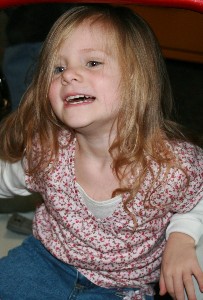 Have you ever been in a position where you couldn't find the words you wanted to say? Or what you want to say isn't coming out in a clear concise fashion? Maybe you said something you wish you had never said. It happens to us all.
This happened to my three year old granddaughter the other day.
She had just awaken from her nap and she couldn't find her blanket, or at least the blanket she wanted. After my daughter told her to look in her room and the entertainment room, then the living room, she became very frustrated at her inability to find her blanket.
As three year olds do – she began displaying her emotions by whining. She started to tell her mom she looked in all those places and she couldn't find her blanket.
She actually speaks very well, but what she said came out sounding like whaaa….I look, my blank, not room, I wan, my bank………..then she stopped……….stomped her foot and said, Mouth, stop it!!! I wonder how many times we should stop talking, clear out thoughts and then begin again……or not begin again. What if could we take back our words as easily as if we just told our mouth to stop it?