You Can't Take it With You When You Go!
Posted by Paula Henry on Saturday, June 11, 2011 at 10:48 PM
By Paula Henry / June 11, 2011
6 Comments
Defining Real vs. Personal Property
It's so tempting for a seller to take something from their home when they pack up and move. Recently, one of our buyers walked in the door of their new home to find the light which was once hanging above a pool table had been removed by the sellers. I can almost see the logic; it was a billiard's light, quite nice and definitely looked good with the pool table. Problem is, it was attached to the home and the buyer expected it to be there, not an empty spot where it once hung.
What was once personal property became real property the moment it was attached to the home. Detach it, put it back in the box and it is once again personal property. We always recommend our sellers think about things they may not want to sell with the home. Lighting fixtures of sentimental value are one such item. I prefer they be taken down and replaced before the home is listed for sale, so there is no doubt in the buyers mind what fixtures they will be buying. Just saying it is not included and will be replaced, leaves the buyer wondering what will be there.
Real Property and the Indiana Real Estate Purchase Agreement
The Indiana Residential Purchase Agreement clearly defines what will stay with the home and is considered real property. Included is the property address, the legal description and a list of items considered to be permanent improvements and fixtures. Included specifically in this list are lighting fixtures, ceiling fans, towel bars and racks, blinds, drapery rods and landscaping, among other items. It is perfectly fine for a seller to take a potted plant, but you can't remove the plants from the yard.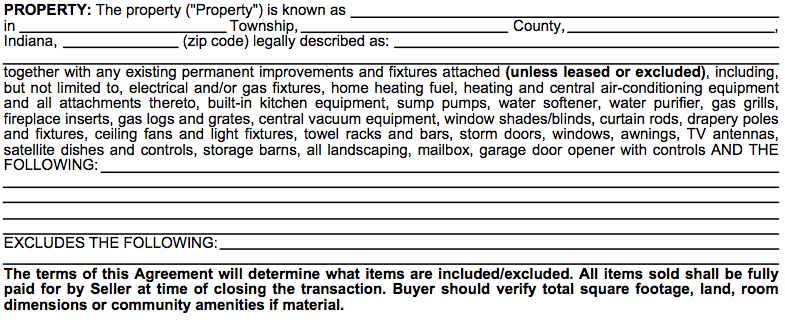 There's also a place to input additional requested items, such as washer, dryer, refrigerator or the play set out back. Alternatively, you could exclude the play set. The contract specifically states this agreement will determine what items are included and excluded. If there is no exclusion, the seller must leave all items specified as real property.
If in doubt, ask your REALTOR® and make sure it is spelled out in the purchase agreement.